3 Flattering Dresses to Gift the Girl Squad for Your Unconventional Greenhouse Wedding
Have you always dream of getting hitched a midst a green tropical paradise backdrop? Yes? Then, why don't you get married in a green house? Trust me, it will create an absolute dream-like setting, especially suitable for urban dwellers. And, if you are wondering whether there are enough conservatories for you to hire or not, then don't worry. If you take some time out and research well, you will come across many within the city. And once done with that, make sure you purchase a beautiful bridal gown for yourself. But, are you forgetting about something? Yes, you are right! I am talking about the dresses that your girl squad would be wearing that day.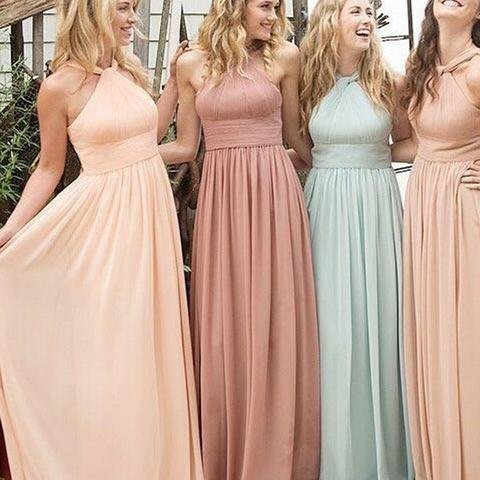 Trust me, just decking up the green house or horticulture center with beautiful blooms, colourful ribbons and lights is not enough. If your girl gang is not decked up properly, the "glam quotient" of your wedding would certainly go down. So, here are some bridesmaid dresses ideas for you that will perfectly complement the stunning green backdrop. Take a look.
Purple Flowing Dresses –To complement the natural setting, pretty fountains, fresh flowers, glass structure and lots of greenery, nothing would work on your girls like Purple bridesmaid dresses would. Trust me, this colour palette has various shades and you would definitely get one for each one of them. Choosing long dresses will be better but, do give them the liberty to choose a neckline according to their comfort level. They can go for the daring off-shoulder or one-shoulder neckline or the simple square, keyhole or sweetheart one – whatever they feel like. If you don't have enough time to coordinate and take them out for shopping, you can simply search online, as there are many stores that give you easy customization options. Just take the screen shots, share them with your girls to get their feed backs, and then order! Purple is a rich colour, and would definitely do justice to this unconventional, beautiful setting. Ask them to wear floral jewellery such as tiara and wristlets, to add more to the "glam factor". Plum lips and smoky eyes would complete the look.
Wine Red Mermaid Dresses –Do you want your girls to be all "oomphy and sassy" on your big day? And, are wondering which colour would suit all of their skin tones and hair colour as well? Then, trust me nothing would do better than rich wine red mermaid dresses! Imagine your girls holding your dress as you walk down the aisle, all decked in beautiful red mermaid dresses, in a conservatory that is decorated with fresh flowers and lots of foliage. Dream like, isn't it? So, stop delaying any further, and get these dresses for your lovely bridesmaids. Ask them to pair with golden stilettos, messy hairdos and nude makeup.
Short Sequined Rose-gold Dresses:You know that this colour is trending this year, right? And, you also know that sequins are really "in" and are loved by all women? So, why don't you get short sequined rose-gold dresses for your lovely divas? Widely available, you can easily ask the tailor to play with the necklines, sleeves and backline so that, the dresses are not clone-like. Ask your girls to go for tousled hair and minimum makeup, if they are donning this dress.
So, now that you know the three kinds of dresses that are perfect for your girls to wear to your conservatory or green house wedding, don't delay any further. Start your search for a reputed store, now!
Jane  is a fashion designer and a regular blogger on wedding gowns, prom dresses and bridesmaid dresses. To know about red, golden or Purple bridesmaid dresses, read his articles.