The Success Story of Augmented Reality in Fashion Industry
Augmented reality (AR) has been one of the most disruptive technologies in recent history. It is also set to be transformative, particularly in the case of retail. Innovation is synonymous with augmented reality solutions. Among the industries most open to innovation, fashion has always been a trendsetter.
The dynamic industry of fashion offers something new almost every single day. This ~$2.4 trillion industry constantly reinvents by blending real-time surroundings with an infinite number of animated designs. Fashion manufacturers and retailers are now enlisting the help of augmented reality service providers in order to grow their business even further.
Augmented reality as for marketing are designed to move businesses online, with the help of creative and engaging ways, including predictive analytics for style trends and robot employees to sew and cut fabric. Augmented reality solutions are being deployed both in-stores and online.
How AR Plays the Perfect Backstage Role in Fashion
The fashion industry is driven by what happens behind the scenes of lavish parades and hi-end stores. Numerous complex steps are to be carried out for manufacturing a single piece of item, be it clothing, shoes or accessories. The trend of employing AR apps to enhance shopping experience is growing at an unprecedented rate, also because customer response has been overwhelmingly positive towards it.
Here is a list of how AR experiences are helping fashion brands and retailers woo in patrons in the thousands.
Immersive Presentation and Branding
Augmented reality is reshaping branding and presentation in the fashion industry. Now there are AR apps specifically designed for such purposes. AR app development in Australia is also well on its way to match up to this growing demand in retail. These apps serve designers and manufacturers, on the one hand, as well as the customers, on the other. While fashion brands can showcase and promote their newly launched collections in uniquely creative ways, customers get the freedom to exploring those collections, in their entirety. What's more, if they like something from the collections, they can happily pick them out to buy, without putting in a lot of effort.
Interactive Marketing With AR
Augmented reality is the perfect marketing companion. With the ability to offer customers the option of trying outfits at stores without having to actually wear them, AR innovation is helping manufacturers and retailers save on offline marketing. Add to this, the advantage of growing one's network.
Customer Comfort While Shopping
Fashion companies have woken up to the reality AR apps in order to provide unforgettable shopping experiences to customers. By using AR-based fashion apps, people can try latest fashion outfits from the comforts of their home and take their time to decide which item they want to purchase and which one to skip. Customers also have the option of browsing fashion products by their respective categories and price range, among other filters. These apps project impressions of real world objects, thereby solving the issue of exchanges later on. This also saves valuable time for store staff.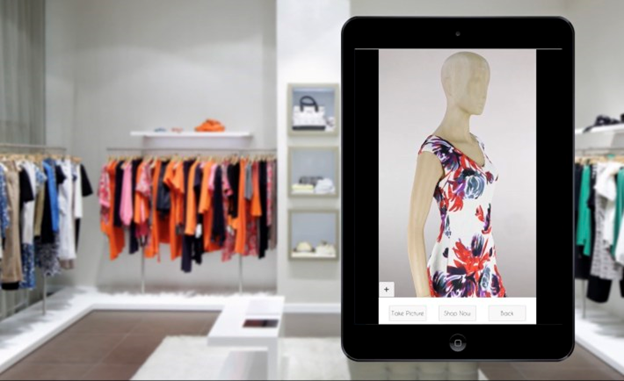 Other Benefits of Using Augmented Reality in Fashion
As already established, augmented reality solutions help elevate shopping experiences by allowing users try on and select clothes without touching or paying for them. Apart from this major advantage that will set you apart from all other retailers and help you cross-sell your products, there are certain other aspects that make AR so indispensible for the contemporary fashion industry.
Augmented Reality for In-Store Millennial Clients
Millennials make up a major portion of the demography that shows fashion in the current society. In fact, it is safe to say that they have grown to become the largest market for fashion brands. The key defining feature of millennials is their penchant for being tech-savvy and tendency to incline towards tech-oriented retail experiences. Same goes fashion retailers – they must tap into tech and social media resources to capture the imagination of millennial customers and attract them into the fashion market.
A few industry leaders have already started doing it, with varying degrees of success. A good example is the use of in-store displays where customers hold their mobile phones in front of a select shop window and get to see models wearing pieces from the latest line.
This feature also makes for convenient shopping experience. Some retailers go a step further to incorporate AR features in their online shopping interfaces. For example, packages displaying alternative outfits to the pieces delivered, that are designed to entice customers to make repeat purchases. Market analyses have shown how brick-and-mortar stores can stay on top of their game with the use of in-store AR tech.
Engagement in social life
One of biggest fashion giants has shown the way as to how augmented reality has the ability to engage its core fans. This has helped to drive consumer motivations, shape new consumer behaviors, and even stop adverse consumer reactions and feedback to fashion products, in some cases.
Shoppers are more aware than ever before. They look up product information and prices on their mobile phones while browsing stores. Augmented reality apps provide additional features for customers to scan pull up product information, including customer reviews, color options, and pricing, and even virtually send products to a friend if they think the friend would like it. This way, augmented reality helps to bridge the gap between offline and online shopping experiences.
Fitting rooms, especially with their long queues in the middle of a busy shopping season, can be huge turn-off for shoppers. This is where augmented reality solutions can provide an efficient alternative. AR app development in Australia is helping retailers provide their shoppers with the option of trying their products at home. Some AR developers are using motion sensing technology to create these virtual fitting rooms for customers. All you need is your phone camera to not let you down. In fact, virtual fitting rooms may also be installed in-store to bring your frustrated customer back in. Now, that's what real innovation looks like!
AR solutions in Australia are banking on the surprise factor of this unique technology to help fashion retailers pip out their competition. For instance, "invisible" pop-up shops to promote certain exclusive products. Retailers also build an image of being progressive and in tune with the current consumer motivations.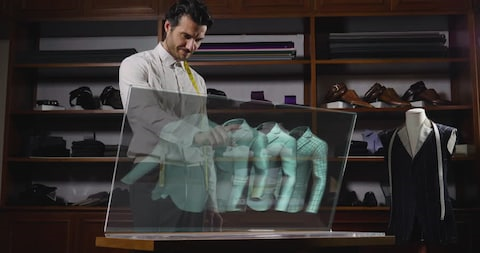 The Next Big Leap for Augmented Reality in Fashion
Augmented reality can be your biggest USP. But, it is truly about understanding how to tailor it to best suit your customers' needs. Intelligent AR branding can help build sustainable relationship with your customers. AR is not just a promotional tactic.
One thing is for sure, augmented reality is no longer a future possibility for the fashion industry and retail. The future is already here. In fact, almost three quarters of fashion consumers have come to expect AR features in their shopping experiences. Go for this digital makeover right now. Tomorrow might be too late!
Author Bio: Kiran Hurkadli is the director of ZealAR. He has been offering Augmented Reality Service in Australia. He has earned success in the CAD drafting industry for his unique and custom designs for his clients.