This Year's Footwear Fashion Trends You Need to Know About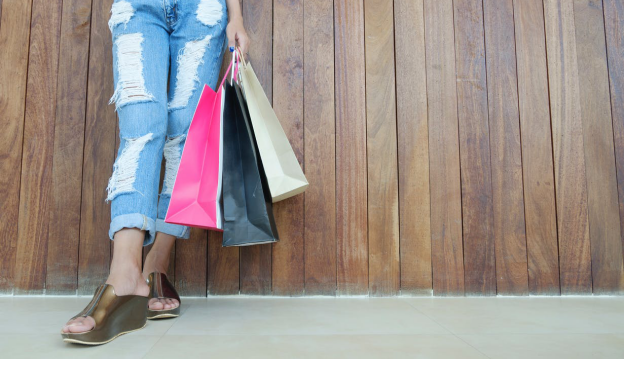 The year 2017 has been a great year for shoe lovers so far, as there are numerous shoe styles that have made a comeback in the market, and numerous unexpected shoe styles as well that have topped the trend chart.
Women are generally shopping freak, they love to make regular visits to the market area, or their favorite shopping portals just to stay informed with the latest trends. But, ladies we bring to you all the information on latest footwear trends of 2017 here at one place that you just can't afford to miss.
Well, fashion is not about blindly following the market trend, but it depends on how comfortable you feel in it and if you enjoy wearing it or not. So, check out all the latest styles of 2017 and choose the one that suits you the best.
Without any further ado, let's discuss the shoe styles that have created a rage in the shoe market this season.
Sneakers
Though sneaker remain in trend every year, in 2017, the craze of sneakers has gone to such a high that women have not hesitated in replacing them with heels. The ladies that once used to wear high heels with dresses are now sporting a pair of casual women sneakers with them and looking absolutely stunning.
Whether you are traveling, going on an outing with friends, going to a party or date, or just dressing up for some special occasion, sneakers are for almost everything. There are plain sneakers, glitter sneakers, embroidery sneakers, flat sneakers, heeled sneakers, and so much more with endless variety, amazing designs, and colors.
Backless Shoes
If you are not fully blown away by the sneaker trend, backless shoes are here for you to give some serious styling goals. Either they are loafers, wedges, or boots, the new trend is making them backless. Easy to glide in, either with a back-strap or absolutely nothing, the backless shoes look amazingly trendy.
Shoe and Socks Combo
Fashion never fails a chance to surprise us, this year also some experiments took place on the ramp that has taken the game of style a level up, and that is pairing up of socks and sandals. Till this new unusual style has come to the market, it was believed that socks are only meant to be paired up with shoes, but this new combination has made socks a perfect pair with sandals, as they look fairly unusual, but absolutely stunning together.
Return of Kitten Heels
This year's fashion shows have spotted a lot of kitten heels, so here's a good news for all the lovers of this tiny sweet heel that they have made a really strong comeback this year. So, this year you may get plenty of kitten heel designs to choose from.
Transparent Shoes
Though we wait for some new trends and designs of footwear every year, but this one is really insane transparent shoes or sandals. Some shoes sport only a transparent upper, but most of them are fully transparent or a complete see-through for your foot. It is something that looks really different and trendy and thus comes in the list of latest footwear fashion trends of 2017.
Off The Beaten Track Boots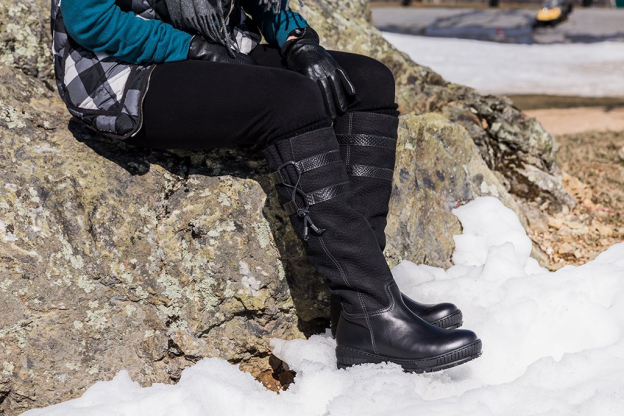 What if you get a perfect blend of trendy and comfy, OTBT boots are exactly that and also perfect for the coming season. They are super comfy, keep your feet warm, look stylish, and you can pack your feet in them for hours without feeling tired. Try them on in different heights and get ready to beat the cold of winter.
Not only these trendy winter boots, but there are some other fall boot trends as well that are either fresh or sustaining a strong presence from last year.
Big and Bold Platforms
Platform heels doesn't need any introduction, you might be having one or many in your shoe closet, but here's a catch for 2017 platforms, they just got bigger, bolder and better. The edges of new bigger platform heels might be going out from the edges of your sandal that make your sandal look a little bulkier, but extremely stylish.
Red is Hot & Trendy
The fall season is absolutely impossible to embrace without boots and if you are a boot lover, you must be keeping a check on the latest boot styles. This year the cold breezes of the fall season will be balanced by the red-hot boots, yes red is the color of the season for boots. Either ankle boots or a more daring pair of knee-high boots. Style the chic in you with this red-hot trend.
Statement Heels
No matter what height of heel you are wearing, they should be stylish enough to make your look stand out, and statement heels surely do the same. It's like a complete transformation for heels where shoe designers are trying them in different shapes and colors.
Almost all big shoe brands are up with this experimentation and so do most of the fashion ramps have been spotted with this amazing trend.
Slouchy Boots
If you are wondering which pair of trendy boots to buy this season, then all you need is a pair of slouchy boots to appease your style craving. These boots are making a strong style statement and looking perfect with no matter what you are carrying as a dress. Remember more the folds, better the boots would be.
Shine and metallic colors are also very much in trend for slouchy boots, so don't shy away by wearing either gold or silver shiny chic boots because after all, you are following the trend.
Modish Loafers
Loafers have surprised all the fashion followers by arriving in a whole new avatar. There are backless embellished loafers, heeled fringe loafers, bright colored easy to glide in loafers and much more. So, if you are looking for a different yet trendy look, loafers are something you need to check out this season.
Embellished Shoes
If you think embellishment is only for dresses, you need to take a look at this super fresh trend of embellished shoes. There are stones, beads, sparkle, thread, studs or everything that you can think of to make your shoe look like a favorite place of artists to showcase their skills.
All these styles are true must-have for the season for looking super trendy and letting that chic out of you. Just make sure whatever you are buying should go well with your comfort level, suits your style, and should be of appropriate size.
Author Bio
My name is Emma Braun, I am a travel and fashion blogger. I have a great interest in fashion and always keep looking for latest styles and trends either in terms of footwear or clothing. Being a comfort and fashion freak, my most preferred footwear brand is OTBT Shoes.