The Most Beautiful Indian Silk Sarees
The world of fashion is constantly changing. New trends make their way into our everyday lives, and there are many different ways to dress in any given season. Even though the market for traditional Indian clothing has diminished over the past few years, there's still a significant demand for garments that are as stylish as they are classic. If you love saris but don't get to wear them often, then we have some excellent news for you! Pure silk sarees are a sign of elegance and luxury. The pure silk saree is always your best bet whether you are attending a wedding or any other formal event. Pure silk sarees are famous among Indian women because they maintain their quality even after frequent usage and washings. Moreover, these sarees last much longer than any other fabric used for making sarees.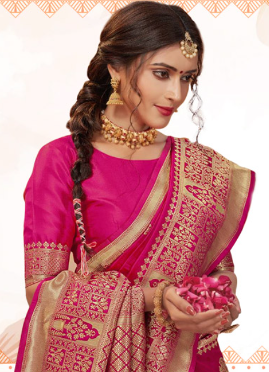 Banarasi Silk Sarees
The Banarasi sari is known for its elegance, luxury, and royalty. The traditional silk saree from Varanasi is one of the most widely recognized Indian garments globally. It is a significant outfit for many married Indian women, given its regional significance. As we all know, every bride wants to look like an Indian princess on her wedding day, and what could be perfect than sarees with gold zari work and heavy pallu to complete the perfect look? A Banarasi saree has two main characteristics: geometric patterns and dense stitching, which gives it a 3-D design. A Banarasi saree is primarily made of silk but has other materials like zari, resham, and sometimes even gold. A Banarasi saree is woven from silk thread called "patta." Materials and the time taken to weave a saree that determine its price. Many other factors determine the price of a Banarasi saree. The place where the saree was made, the weaver who created the saree, and the design of the saree are the three most important factors determining the price of a Banarasi saree.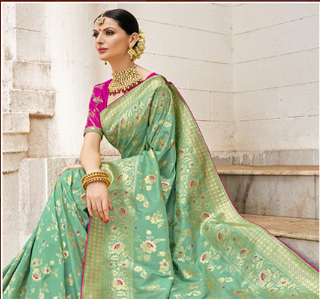 Kanchipuram Silk Sarees
From the North of India, banarasi silk sarees, let's move to deep south Tamil Nadu's famous Kanchipuram silk sarees. Kanchipuram is a town in Tamil Nadu known for its silk sarees. Indian women have worn the Kanchipuram sari for centuries. It is believed that the Pallava queens from Kanchi used to wear this type of saree. Kanchipuram silk sarees are beautiful, delicate, and versatile garments. They have gained much attention in the fashion world in recent years. These are special not just because of their elegance and durability but also the patterns and motifs used in making them. Kanchipuram silk sarees are made from raw silk dyed with natural plant dyes.
Kanchipuram is known for its variety of sarees and fabrics. The sarees made in Kanchipuram are usually woven from silk, but there is also a small percentage of cotton or synthetic sarees. The most common designs that one can see on Kanchipuram sarees are the 'ticking' or striped designs. To make a Kanchipuram saree, the raw silk is first dyed by hand. Traditionally, a natural plant dye is used for this purpose. These are soaked in water, after which the thread is put through a process called 'bunging.' This is done to fix the colour of the silk. After this, the dyeing is repeated twice, with the dyes being changed each time. This is done to fix the color deeply into the silk. Kanchipuram sarees are known for their elegance and durability. You can wear them for years without them getting damaged. They are also safe to wash and can be dry-cleaned.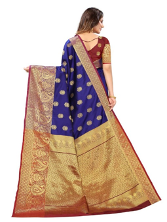 Bhagalpuri Silk Sarees
A woman can wear many types of sarees. However, something unique about the bhagalpuri silk sarees makes them stand out from the rest. The primary appeal of these sarees is that they have an interesting texture and pattern. The bhagalpuri silk has been used in making these sarees as it brings out their visual beauty. Bhagalpuri sarees are a traditional form of weaving native to Northern India. The term "Bhagalpuri" literally means "cotton weaving". The technique used in Bhagalpuri weaving is also known as "Fancy Weave, a combination of ikat, woven tapestry, and jacquard weaving. Bhagalpuri sarees are woven using pure natural dyes and unprocessed silk. This makes them a truly eco-friendly, sustainable, and ethical product. They are also highly durable, easy to maintain, and can be worn for a long time. The best thing about these sarees is that each one has a unique pattern and visual texture.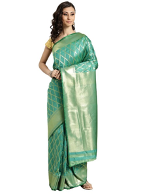 Manipur Silk Sarees
The Manipuri saree, one of the traditional outfits worn by these women, stands out as one of their favorite clothing. Manipur has been known for its rich art and culture ever since ages. The Manipuri saree has a unique blend of colors, motifs, textures, and silhouettes, making it stand out from other northeast India sarees. It is also called the Manipuri silk saree because of the usage of silk in making this traditional outfit for women.
The Manipuri silk saree is undoubtedly one of a kind! It is not just the silk fabric that makes it so exquisite but also the rich colors and intricate designs that make it unique. Manipuri sarees are known for their beautiful border design, often characterized by natural colors like green, yellow, red, etc. Manipuri sarees also have a different kind of pallu that is not very common in other sarees. A pallu is a strip of fabric used at the end of a saree draped over the shoulder or across the chest.
Silk saree is an all-season outfit that you can wear throughout the year. The silk saree is a perfect outfit for a wedding or a festive occasion. It is beautiful and can be worn both formally and informally. A silk saree is not the most comfortable outfit to wear during the summer.