Things You Must Know About Remy Hair Before Shopping It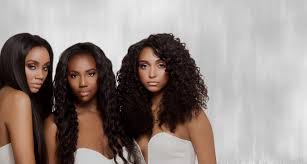 Nowadays it's normal to hear terms like "remy hair extension" when we're having a conversation about natural hair extensions or wigs, but do we really understand what it means when we hear these words? What's natural remy hair and where it comes from?
Before explaining its definition, first, we need to acknowledge the fact that there's a lot of bad information and misunderstanding about this word, and that nowadays it seems like everything in this market is natural remy hair, which is far from the truth.
After doing some research, we came to the conclusion that remy hair basically means natural hair that comes from a donor, it can be virgin remy hair, which has been donated from a single person and it hasn't gone through any chemical process. We can also find non-remy hair, which is often collected from hair salons and factory waste. This type of non-remy hair extensions are still natural hair, and to keep it from getting tangled, it's subjected to a type of aggressive process for a few seconds with acids to remove the cuticle. In the final process, it goes through a wax bath so that the hair regains its shine, although it disappears after a couple of washes, so it's an option for women who like to change their look frequently.
 REMY HAIR
There are many countries that work in the making of hair extensions and wigs, but the most known and wanted are the ones made in India and China.
These are the best two options if you are looking for a high-quality product that will last you a good amount of time. But there are some features about each one of them that you should know before making a decision, and we are going to tell you all the details so you can choose which one suits you best.
INDIAN REMY HAIR
It's one of the best options since it comes in many different textures. If you are looking for curly extensions, Indian remy hair would be ideal for you.
It doesn't require any chemical process to curl it, and you can straighten it if you want a more elegant look.
This type of hair is the most demanded due to its versatility. It feels and looks as if it were your own hair and it also lasts much longer than other types of hair, which makes it more expensive.
All Indian remy hair comes from the temples of India. It is collected from several temples of India, where women will offer their hair in religious ceremonies of devotion to God. The temple hairdressers pick up the hair and auction it off to the hair dealers.
If you ask me, I would say the virgin Indian remy hair is the best way to go if you are looking for the most natural hair possible, and the one that offers the best quality.
CHINESE REMY HAIR
It is the most used after the Indian hair, and its also known to be much more thicker and straight. Its appearance and final result offer very different results from those achieved with Indian hair.
This hair requires a lot of care, but it gives better results when dyed because of its thickness, which makes it easier to handle discoloration treatments. Chinese hair is smooth,  making it especially suitable for extensions. Still, their care can be complicated for women who are not used taking care of their own hair.
One thing that's keeps this hair from being the best option for extensions is that it has a great disadvantage: its a completely straight virgin hair that doesn't acquire any texture or waves, so basically any shape that is given to it with an iron or a curling iron will disappear in a matter of a few hours. So if you want to make different looks and hairstyles such as braids or waves, then Chinese hair is not what you are looking for.
After knowing the characteristics of each of them, now you can make a better decision based on your needs. Remember that each of them has its advantages and its particular features, so it's up to you on what look you want to achieve.