Six Fun Ways to Wear Icy Blue Lenses Everywhere
Dressing up for special events has always been a huge deal. And not just for girls.
Everyone likes to look good regardless of gender, class or race. While we can choose to wear unique dresses to stand out from the crowd, opting for accessories is also a great way.
Contact lenses are hence ideal accessories which help bring out a natural glow! Want to know how to wear blue lenses in fun ways?


Checkout 6 cool ways below
The Role of Contacts
Contact lenses have really changed the rules of the game when it comes to dressing up. No longer are we restricted to just changing our attire, our makeup or our hair, we can literally don a pair of stunning lenses and voila – a new look altogether!
The color of your eyes is a distinctive feature, one that people unconsciously notice and admire. Switching them up with contacts is definitely going to throw people out of the loop for a minute.
That's not to say it shouldn't be done. Just do it with confidence, make sure to match all your accessories and own your look! You'll definitely leave everyone baffled.
Wearing Icy Blue Lenses
There's quite a diverse range of colors and styles available now for contacts. From the most natural shades to the most vividly obvious ones – you can have them all!
Mayfair colour contacts are a wonderful option to look for different shades!
Blue lenses are thought of as a color that will definitely stand out. That's not always the case though. And even if it is – is standing out really a bad thing in any way? Nope! Let's go ahead and explore some exciting looks for blue eyes!
Natural Eyeshades
A natural eye look can be quite a savior in times of need. Not to mention, it is perfect for just about every occasion from causal outings to a dinner. Don't believe me? Well, see a lightly stroked on shadow with just the perfect stress on your crease line will definitely look chic in the work place, and appropriate too!
Switch it up with a bold lip and you're ready for a night on the town too! Just be sure to select the shade of brown that best compliments your skin.

Smokey Eyes
Let's just face it: the smoky eye look is here to stay for a long, long time. And why wouldn't it? After all, it is flattering on just about everybody! With blue eyes though, a smoky eye look done with black shades can look just a tad over the top.
Not to worry though, the trick to creating smoked out looks is to use a gradual progression of colors and really blend them out. It doesn't necessarily have to be with black either, a gentle progression to deep brown shades can look really stunning with blue eyes.
Blue on blue
Sounds a bit much? It isn't though! Blue eye shadow or blue liner can really bring out a gorgeous shade of blue in your eyes. It can work with the color of your contacts or your natural eye color and enhance it so it pops even more.
However, that's definitely for the more "dressy" occasions. For a more routine appearance such as a casual outing, opt for blues with pastel hues.
Purple and blue : we got you!
An unconventional pairing for sure – but throw caution to the wind and try it out once. It'll look so stunning, you won't want to take it off!
Rich purples, cool lilacs or soft lavenders, all these shades really stand out with icy blue eyes and are a head-turner for sure. Just remember to stick to jewel tones to make your whole look really come together and pair it with a toned down lip to balance everything out.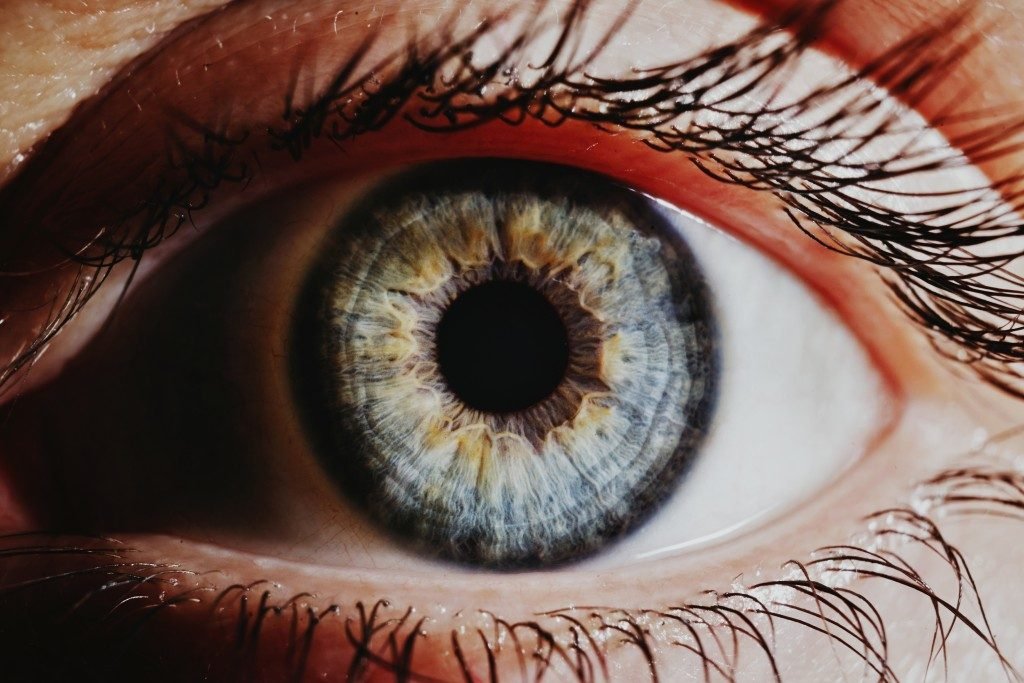 Pink Eyeshadow
This is definitely one combination people generally don't think of when they think of blue eyes. However, warm pink tones such as corals can really look spectacular. Try to stay away from light pinks or cool pastel tones. They can lean more on the red side and make you look tired. Once again, it is important that you select a tone of pink that really lightens up your skin.
Mermaid Style Perhaps?
Green eye shadow is really hard to pull off with blue eyes. But we all love a challenge don't we? All you need to do is find the perfect shade of green to really compliment the icy blue eyes and you'll create the superb mermaid look that's alluring to boot.
Soft blue based tones such as teal generally looks amazing with blue eyes.
Any make-up artist will tell you, with eye looks and eye shadows, blending is the key. Always use a light hand when applying shades and blend them all out to make a seamless transition from one shade to the other. When using mayfair color contacts, use products that are hypoallergenic to avoid harming your eyes.