What Flowers Symbolize A Mother?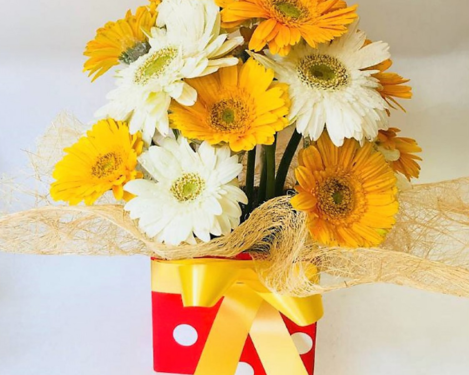 On this mother's day, let's give a memorable surprise to our moms by doing something special and gifting them something worth remembering which can make their day and bring a sheer joy on their faces. And when it comes to a gift which can symbolise the purity, innocence, caring nature and unconditional love of a mother, what can be better than beautiful love flowers.The freshness and innocence of blossoms are just enough to make this day extraordinary.
In this article, we will tell you some exclusive flowers which resemble a mother, and you can gift them to your mom. Let's have a look at symbols of motherhood which you can choose from your nearest florist and surprise your mother.
Here are our best choices for types of flowers for mom:
Carnations:
Whenever we think about the innocence of a mother, one floret which comes in our mind is carnation. The beautiful carnations symbolize charity, faith, purity, beauty, and love just like our mom. Surprise your mommy with a nice bunch of different colors or carnations. These blooms are available in various shades like hot pink, pastel pink, white, yellow and many more.
Beautiful bouquet with a box of chocolate and a greeting card will definitely make her happy. Spend time with her and tell their how important she is and how happy you are to have her in your life. Such small things make big differences, and you must do it. If you live in Pune, you can easily find carnations and get online flower delivery in Pune at your doorsteps.
Tulips:
The Tulips reflects joyful vibrancy in our life just like our mom. This is definitely the flower of beauty which resembles our mother. These amazing fresh blooms represent coziness, comfort, and joyfulness which undoubtedly are the synonyms to our mom. Tulips are available in various shades like red, pink purple, orange and many more to count on. There are more than 3000 varieties are available of this single bloom.
These are also a very good option for your home decor, the freshness and the delightful presence is just unmatchable. Just a couple of these can make your living room fresh and young.
Day Lilies
Day lily is a quite popular flower species available to us; this is also an Asian emblem for mother. The dual tone texture of daylilies makes them so special and different from others. Day Lilies symbolize the gentleness, purity, and aliveness of a mother and this is one of the best florets which you gift to your lovely mom.
Go for lunch or dinner with your mom and make her day memorable by spending time together and gifting her these beautiful lilies.
Roses
No matter what occasion we celebrate, roses are always with us to complement the moment of cheer and joyfulness. Rose reflects pure love, happiness and togetherness like our mothers. A beautiful bouquet of red and white roses with a box of assorted chocolates can make everybody at home happy especially your mom.
Along with the above amazing qualities of rose, if you want to gift flowers whose meaning is a strength, the rose is the perfect answer to your question. These are easily available at your nearest florist, and available varieties are also breathtaking. From various shades to hybrid roses, you have a lot of creative options.
Daisies
Daisies are known for their cheerful, joyful and beautiful appearance. Gerberas Daisies are one of the most popular blooms which are widely given on the occasion of mother's day. You have a lot of varieties and shades of daisies including pink, yellow, orange, pastel pink and many more to count.
They resemble the purity, beauty and caring nature of mothers. Get a heartwarming bouquet of lilies wrapped in an attractive paper with a sweet greeting card. This will definitely bring a priceless smile on her face.
Chrysanthemum
When it's mother's day, how can we forget the Chrysanthemum? These are amazing florets which reflects affection, care, love and presence just like our mothers. Whenever we need her, she is with us regardless of anything. These are also known as the "Pot Mums".
You can easily find chrysanthemum online or at your nearest florist shop. If you are looking for some cheap flowers delivery in Pune, there are various popular florists available who offers quick doorstep delivery.
Special decoration for mother's day:
Now, let's talk about what you can do for decoration to make this day even joyful and memorable. There are so many decoration options available for you to choose from. Have a look at some of the quick and easiest ways to decorate your place at a very affordable price.
Go for artificial flowers also:
Along with some fresh blooms, you can also use some natural looking artificial florets. Various colors of flowers are available for the decoration purpose. These not only enhance the beauty of your place but also save you a lot of money which you will rather spend on other decorative items.
There are many artificial flowers Punehubs where you will find a huge variety of blooms for your place's makeover at a very attractive price. These look real and requires no maintenance.
Decorate her room:
Decorate her room with her favourite flowers and make her day one of the happiest day filled with joy, togetherness and love. If your mom loves sweets, you can also go for some chocolates or a fresh cake.
Priceless photo frame:
Gift her a digital photo frame loaded with all the priceless moments of her life and your family. This is one of the sweetest gift option available for you to gift. Or you can also gift a single large photo which is very close to her heart. Decorate the room with this frame and just capture her priceless expressions of joy and happiness.
Send gift to her place:
Don't worry if your mommy lives in another place; there is always an option to make her happy. Send a sweet gift hamper at your mom's place with a greeting note and make her day unforgettable. You can easily end bouquet online in Pune from any popular florist in just a few clicks.
We hope you have a pretty good idea now about what blooms symbolize a mother and what else you can do to surprise her. Do something sweet for your mommy and spend quality time together. Order fresh and fragrance blossoms and get the delivery in just a couple of hours at your doorsteps without going out and searching for favourite blooms.
Author Bio: Pratik is a leading florist and he is running a flower shop in Pune, which is known as "Blooms Only". The shop is offering fresh and high-quality flowers with imported floral accessories. Pratik and his team are offering unique design bouquet for your mom on this mother's day.