Top 10 Gifts for Father on Father's Day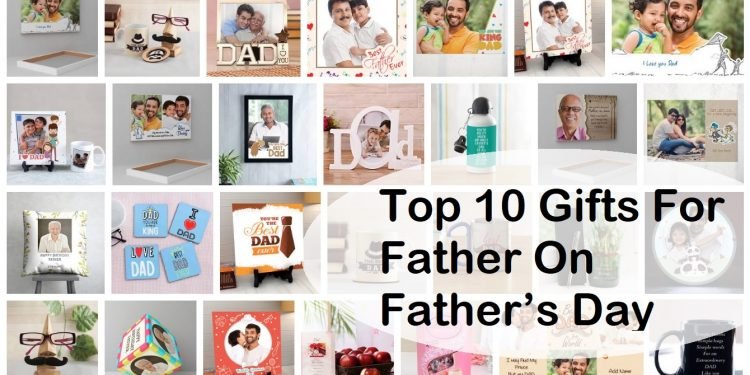 There can never be any special day to celebrate the lobe and sacrifice done by our dad. He is one man who always puts his needs at the back foot and prioritizes our needs. Whatever we want is given to us according to the best of his abilities and when we crave for something unattainable, it is that man who starts planning on how to save more and get it for us. However, we do not have the mind set or the opportunity to thank him for that all he has done. Not that a thank you would instigate him to do better or it would sort out all the problems he has been going through, but one thing we can guarantee that one thank you would make him feel that we still care even when we are away from them.
Let us have a look on how we can make his day even more special and have a little celebration to make cherishing memories.
The purest form of pleasure that we can provide to our dad would be in the form of a bouquet of flowers. Wecan make arrangements so that he can start his daywith a wide smile when he gets an early morning delivery of some freshwith green dracaena leaves& green fillers and fragrant A bunch of red roses or some sticks of delicate orchid or maybe some streaks of lily would be marvellous for the occasion.
There are times we would want our dad's to indulge into a sweet affair just like they want and when it comes to a box of Ferrero Rocher there is no turning back. Thus by combining a box of exotic chocolates to a utility item for example, a deodorant which is needed by him almost everyday, the gift combination would make the entire effort amazing.
Apart from utility gifts, we can sometimes indulge in giving assorted eatables to our dad which can be enjoyed by him as well as the others in the family too. Thus we can choose to give him a combination of a box of assorted and mixed dry fruits along with a tin of his favourite Rasgulla and imagine him savouring the eatables.
When we know that our daddy is a fitness freak we must send this gift that encourage his interest and urge him to keep fit and fine. So, we could arrange for a combo that contains a cool pair of wrist bands from Nike sized 7×7.6 cm, an 875 ml bottle from Nike, a super soft towel of 40×20 inches& a 150 ml deodorant body spray from Playboy which are all going to be handy when he comes from a gym or from his long walks and exercise sessions.
We can also opt for gift combos like a colourful cushion which says that dad is our hero combined with a same coloured coffee mug and the same graffiti on it teamed up with a bar of sumptuous chocolate. This way we will be able to send gifts to love once that will always remind him of us even when we are away and also when he begins the day every morning with his tea or coffee we will be able to be with him with our thoughtful gesture.
One of the best things that we can offer on special days is a big and sumptuous cake which denotes that dad light to be the 'Gentleman' of the house. We all know that our mums are always the boss of the household and hence sad is the gentleman. We can always choose the base to be of his favourite flavour and team it all up with the top of the cake sporting a big bushy moustache.
We all know how our dads are attached to our childhood photos which might be embarrassing for us, but for them, these are memories that they cherish in their hearts. Although we can send gifts to India but knowing that they are with the personalized gifts where we choose one such photo and print it on a cushion of 16×16 inches size so that they can keep it treasured in their bedroom and whenever they miss us, they can kind of cuddle the cushion thinking that we are there with him at that moment is a real treat.
Sometimes we know how parents are fall prey to the unnecessary pangs of different fortune tellers but when they speak of Feng Shui, they have a solid base to their explanation. Even though we are not present with them manually we can arrange to send them a two layered good luck bamboo plant so that they are happy with their gift and we can see our dad smile. Also if the Feng Shui funda works well, this can help them in earning a few extra bucks if placed properly.
When we know that our dad is pretty busy with work we would definitely want to give something which he can use daily. We can give him a combination of an organizer dairy, an attractive pen to write with, a fragrance that he would always prefer and a 16pieces pack of Ferrero Rocher chocolate. This combination would be perfect for him and even if we send gifts to India this would remain a winner for its usefulness in their daily lives.
We can also give them a gift which brings nostalgia in front of them in the form of a lamp. Its a nostalgia cube rotating lamp that will be personalized by having all our personal photos on it and it will be of dimension 5.5"×5.5"×5.5"on itself. It will be mounted on a wooden stand with dimension of 1.5"×5.5"×5.5".There will be a switch on the stand and we can leave it rotating whenever we want to. However, this looks the best when used during the night time and makes us reminiscent of good old memories.