10 Tips for Better Smartphone Photography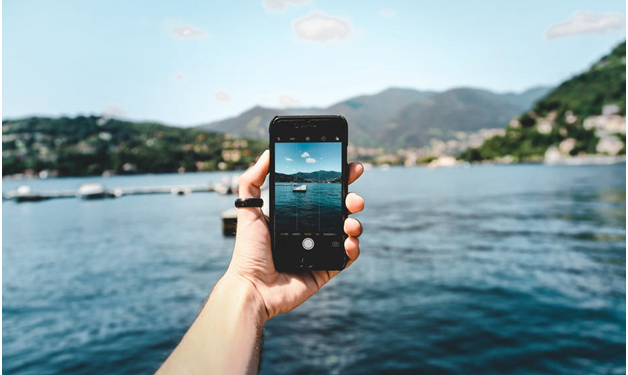 The most commonly used cameras these days are smartphone cameras. Smartphones are easy to carry and you can shoot as many pictures you want with them instantly.
For those who want to learn best ways to capture photos from a smartphone camera, we have compiled 10 tips that are easy to learn and use. With this information, you will be able to improve your smartphone photography skills and get some spectacular shots without too many efforts.
Below are 10 tips for better smartphone photography:
Tip#1: Make sure you are fully aware of the auto mode.
First, you need to make sure you know the auto mode of your phone camera as this will help you take great pictures. You must know when the auto mode utilizes high ISO, longer shutter speed and make adjustments to your settings. This way you will be able to go beyond the default camera settings in the right way.
Tip#2: Don't use zooming option.
It is advised by all the greatest photographers not to digitally zoom with smartphone cameras. Why? Not all phones like Iphone X have optical zooming 2x. If you zoom while shooting pictures from phone camera you will have a low quality photos. If you don't want to compromise the digital quality of the images, you can shoot an image and crop it later.
Tip#3: Explore your smartphone camera beyond the Defaults.
Smartphone cameras are good in selecting camera settings, but when you shoot pictures you can't always stick to the default settings of the phone.
You can adjust the exposure and white balance of your smartphone camera as much as you want. Almost every smartphone allows users to change exposure settings in shooting mode. These changes will shift your camera setting to manual mode from auto mode but that's how you will be able to compose more balanced images.
Tip#4: Posture matters a lot.
A shaky and blurry image never looks good. To save yourself from shooting blurred pictures you must hold the camera in a stable position. One tip here that will be very useful for you is that you can use the volume key as your shutter while clicking pictures. You can also utilize timer and set up your smartphone in a balanced position on an object.
Tip#5: Shoot multiple photos.
Now smartphones have a lot of memory space and you can easily nail your smartphone photography by taking lots and lots of shots. When you take a lot of pictures at one time you have the option to select the best ones among them. Utilize burst mode to capture images of fast moving things like vehicles, people on the street or a cute pet animal.Portrait mode in iPhone X is outstanding to take pictures like DSLR. If you are willing to buy a phone which has the finest portrait mode, iPhone X will serve you the best.
Burst photography helps smartphone users to catch a sequence of similar photos so that you can find the best static shot of the moving subjects. Some smartphones even asses and select which clicked pictures are best based on focus over subject and image quality.
Tip#6: Shoot in RAW format.
Shooting in raw format helps you in post-processing. If you are someone who likes to edit images, you must take photos from your smartphone using RAW instead of JPG. This way you will be able to have an image which will stay in your phone even after making the final edits to it. You won't be losing any data. In RAW format, the white balance and other exposure levels are not set and you can shoot an image in its most natural and unprocessed form. Simply, add and focus on the details later while editing.
Tip#7: Never underestimate the power of post-processing.
Post-processing is something which makes a random image absolutely the best one. Pictures look vibrant, bright and eye-catching after the highlights are toned down and saturation levels are increased. You can sharpen the images for more clarity. Increase contrast and resize to post on your favorite social media platforms. Your friends will be surprised to see how beautiful pictures you capture through your phone.
Tip#8: Lighting is another key element for better smartphone photography.
If lighting conditions are not fine, trust me, your pictures won't come out good. Dull images are never attractive. It is supremely important to make sure your subject is lit right when you are capturing it. You definitely would want to avoid grain in your photos. A clear and bright picture is achievable by utilizing artificial light and natural sunlight. There are so many artificial lights for smartphones in the market but natural light works the best for photography. Use daylight hours around sunrise and sun set while capturing images.
Tip#9: How about Google camera application?
Google camera app recommendation is especially for the android users. Google camera phones are really good as they have amazing HDR and options for editing. In simple words, these pixel cameras are famous because of their camera software. So, you can utilize the Google camera app in any other android phone and you will see a difference in image quality
Tip#10: You should know when to utilize the portrait mode.
The last tip we have here for you is related to portrait mode which has become common now. The portrait modes make the background of the subject blur and bring all the focus on the subject. This was possible with the wide lenses of DSLRs previously but now smartphones have become famous for their unique portrait mode qualities. The shots taken in portrait mode are exceptional. Make the best use of this feature as it's quite reliable to play with. Shoot pictures in portrait mode and you will not be surprised to see some stunning results right away.
Thank you for reading. If you liked this post, do share it with the world. : )
Author Bio:
Stephanie Lewis is a writer and a newborn photographer. She joined Photography Concentrate team in 2017 and since then she has been trying to pursue the best photography and editing practices. Besides photography, she loves having coffee, meeting new people and traveling to exotic places. Read this interesting post on Post-Processing Tips for Photographers.