Hollywood Celebrity Makeup Artist's 08 Tricks She Likes to Use Makeup Sponge
The beauty blender is an essential makeup tool that you must have if you want your makeup to be flawless. You must know how to use a makeup blender properly so that you can take your makeup to the next level. Primarily makeup sponges were used to apply the foundation but now many makeup artists say that you can use the sponges to do your whole makeup. For years makeup blenders have been misused because many people didn't know how to use them properly. Here is a guide that can help you to understand the beauty sponge properly.
Beauty Sponge A Blending Tool For Foundation
There is no doubt with a beauty sponge you can apply your foundation flawlessly. Here are some tips that can help you to do that.
No matter what type of foundation you are going to use you still need to prepare your skin to apply the makeup. First, you have to cleanse your face so that there is no dirt and the extra oil on your skin. Now apply a good moisturizer on your face so there is a layer between the foundation and your skin. After applying the moisturizer you must wait for a few seconds and then apply the primer you usually use.
You must remember this step as most people forget to soak their beauty blender. You must use a makeup sponge when it is damp to apply the foundation. The reason is that moisture makes the sponge soft, flexible, and big. Put the sponge under water to make it wet and then squeeze it to remove the excess water. Make sure that the sponge is only damp and not soaking wet.
Now take your favorite foundation and put it on the back of your hand. Take a small amount of the foundation on the sponge and apply it to your face by dabbing the sponge on your face. First, apply the foundation to the centre of your face then move outwards so that you get the proper coverage in important areas. This technique of applying foundation will give it a more natural look.
After applying the foundation take a look at your face and check if any area needs more attention or not. If you see the coverage is not even then you can use your natural sea sponge for the faceto make it perfect.
08 Secret Tricks That Every Hollywood Makeup Artist Loves to Use with Makeup Sponges
Beauty sponges are widely used by celebrity makeup artists to do flawless makeup and get a brighter complexion.
Applying Foundation Evenly And Smoothly
Many people prefer to use makeup brushes to apply foundation but the truth is makeup brushes do not give an even look to your foundation and make it look cakey and streaky. If you want your foundation to look natural the beauty sponge is the best option as it presses the foundation into your skin which makes it easy to blend also is non-sticky as well.
Some people also use a makeup brush to apply the foundation and then use the sponge to blend it and take away the extra foundation with it.
Applying Concealer Without Creases
The most common problem that many makeup artists face is that they can not apply concealer without any crease. But you can use a beauty sponge to get rid of this problem. the main reason that a concealer crease is the lack of moisture. As you know the sponge is used wet so it gives appropriate moisture to the concealer.
Apply the concealer around your eyes and then use the tip of an egg-shaped sponge to press it in and it will settle without creasing.
Setting Powder In The Right Amount
The misconception about a beauty blender is that it can only be used for liquid products as it is slightly damped when you use it to apply makeup. But a beauty sponge works best with dry products like a setting powder too. if you apply the setting powder with the brush then there are chances that it will move the m makeup below it.
To apply setting powder with a makeup sponge you should apply more than the usual amount of powder on the required area then let it set for a few minutes and then dust off the extra powder.
Say Goodbye To A Concealer With A Makeup Sponge
There is a myth that concealer is mandatory if you want to give makeup a flawless look. But with a makeup sponge, you can say goodbye to the concealer as it gives an even tone to your skin. Use all the steps mentioned above to apply the foundation with a sponge and you don't need a concealer to give your makeup a more polished look.
People who have dark spots or blemishes should use a concealer as it will help them up properly.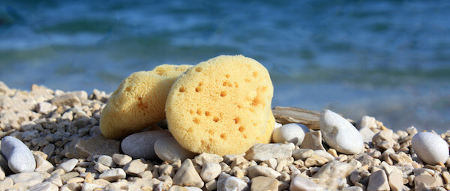 Use Liner In Layers
Yes, you read it right makeup sponge can also be used to apply liner. There are brushes available that have sponges of the perfect size and shape on them which make it possible to apply the liner perfectly with ease. You can use both powdered or gel eyeliner with a sponge. Eyeliner applied with a sponge does not smug and get creased. It blends perfectly well with your makeup and gives your liner a smooth look.
If you're looking for a new way to apply your eyeliner, look no further than your makeup sponge. That's right, the same sponge you use to apply your foundation can also be used to apply liner, giving you a more natural look.
There are brushes available that are specifically designed for applying eyeliner, but using a sponge gives you more control and allows you to create thinner or thicker lines, depending on how much pressure you use. Plus, it's easy to clean – just rinse it out with some soap and water after each use.
So next time you reach for your makeup brush, consider using a sponge instead – you might be surprised at the results!
Makeup That Diffuses And Highlights
Apply blush and highlighter with a makeup sponge and see the wonders. Blush applied with a sponge gives a more natural flush. To apply the blush you must smile and then apply it to your cheekbones. If you are using a liquid blush then you should take more than the usual amount of it to achieve the look you want.
To apply a highlighter and contour products you can use the flat edges of the sponge as it will give a sharp line and then you can use a round-shaped sponge to blend it well with your makeup.
Lighten up Heavy Makeup
The best thing about a makeup sponge is that you always have the option to lighten your whole makeup or any specific makeup product. If by mistake you apply too much contour, highlighter, or blush then you can use a plain damp sponge to lighten them. if you are worried that it might make your makeup look patchy then you can spray some face mist over the sponge and then lighten your makeup.
Skin Care Products
It might look odd but you can use the makeup sponge to apply your skincare products too. Dabbing the sponge on your face lets the product absorb well on your skin and pores so it means that beauty sponges are the best tool to apply face serums and face oils.
The good thing about beauty sponges is that you can use makeup sea sponges for the face when they are wet so they don't absorb excess product. Sponges are soft and smooth so they are best for people who have extra sensitive skin. Keep in mind that you used to apply skincare products should not be used to apply makeup.…..
Wrapping Up
No doubt beauty sponges are a good replacement for many makeup tools. You only need one or two shaped makeup sponges to apply the whole makeup but you need more than 10 brushes to apply makeup. Make sure to store the makeup sponges so that they don't become a breeding house for mold and bacteria.
Meta Title: Hollywood Celebrity Makeup Artist's 08 Tricks She likes To Use Makeup Sponges
Meta Description: Want to know Hollywood celebrity makeup secrets? Discover 08 surprising tips that every makeup artist uses for makeup sponges.