Interview with Gujarati Actor Mehul Solanki
An actor who can perform on various platforms like television show, theatre dramas and now, movies. If you also want to be an actor then you have to be much prepared for the acting. But as you know the competition is really high in this field, until you have talent, skills and abilities to become a successful person in this field.
Today I would like to introduce one of the versatile actors Mehul Solanki, Who has been working from long time in this industry, and has very good experience of working in Drama, TV serials and movies.
So Welcome to Express Info Today,
Rahul Soni: How, according to your experience, are TV shows, theater and movies different?
Mehul Solanki: It's still early to share an experience as there's still a long way to go..but all I know is that working as an actor in a movie, drama or in a TV show are all very different from each other. Though TV show and movie are somewhat similar, but drama still can be differentiated because drama is basically an actor's medium…whereas films and TV shows are an overall medium..In dramas, no matter how much hardwork people put in, it's always on an actor's shoulders to carry out a drama.
Rahul Soni: Tell us about your journey in theater and TV shows?
Mehul Solanki: My theater journey started since I was in college. I got the opportunity to work with Mr. Saumya Joshi on various plays. Even after that, As far as theater is concerned, I  did two major plays : "Muthhi Bhari ne Jindgi" by Girish Parmar, where I played a role of a 55 year old when i was just 25 and "Hriday Triputi" by Chinmay Purohit, where I did a role of Kavi Kalapi. After college, I worked in an episode of a TV Series "Doctor Ni Diary" with director Deepak Bawaskar. Also, my career took a turn when I was casted again for another episode by Vijaygiri Bava, who was an assistant then, for "Doctor Ni Diary" and that episode, was directed by Mr. Sandeep Patel. After this very episode, I got casted in his serials "Sagpan Ek Ukhanu" and "Motibaa". I also worked in government ad films, with Moving Pixels and various short films.
Rahul Soni: Tell us about the film which you recently did – "Premji : Rise of a warrior"
Mehul Solanki: Finally after working at various platforms, – "Premji : Rise of a warrior", by Vijaygiri Bava happened. I was casted as the lead character "Premji" which was the most challenging and toughest role I have ever played or I will ever play…because the role of Premji was such that he was just feminine from his external behavior and gesturers, but biologically, mentally and from inside, he was a man. And it was very difficult for me to walk on that thin line because we were NOT supposed to show him as a homosexual or gay…because Premji was not! There are infinite experiences related to the making of this film. It was a great opportunity for me to work with all the great performers around me, like Abhimanyu Singh, Happy Bhavsar, Maulik Nayak, Aarohi Patel, Vishal Vaishya, Namrata Pathak, Malhar Pandya. It made me grow and learn from them as well.  I just wish and hope that even in future; I get to work with such great performers and directors. This film definitely changed my whole life, which I would not be able to put into words.
Rahul Soni: What type of role you want to perform the most?
Mehul Solanki: Challenging. Be it as a protagonist or an antagonist.
Rahul Soni: Describe your best quality as an actor
Mehul Solanki: Well, I don't think I am eligible to answer this question. Audience, my directors or my co-actors will be able to answer this one…
Rahul Soni: Tell me the name of your favorite Actor and Actress?
Mehul Solanki: I don't have any particular favorite actor or actress..I have many favorite performers, like Charlie Chaplin, Irrfan Khan, Christian Bale, Hugh Jackman, Al Pacino, Daniel De Lewis, Robert Di Nero, Amitabh Bachchan, Smita Patil, Shabana Azmi, Sawara Bhaskar, Jim Carrey, Heath Ledger, George Clooney, Brad Pitt, Johnny Depp, Ben Kingsley, Gerard Butler, and the list goes on…
Rahul Soni: Describe yourself in single line?
Mehul Solanki: Artist by Heart…..
Rahul Soni: Explain the guidelines to become a successful performer?
Mehul Solanki: Not just for this field, but in anything one does, only these 3 things matter – Patience, Passion and Dedication… and nothing will stop you from becoming successful.
Rahul Soni: Who is your ideal role model in the acting industry?
Mehul Solanki: I know I will repeat this but…  for me, performances are ideal.
Rahul Soni: What are your upcoming projects?
Mehul Solanki: I am sorry but I won't be able to tell, as of now…Still in the pipeline.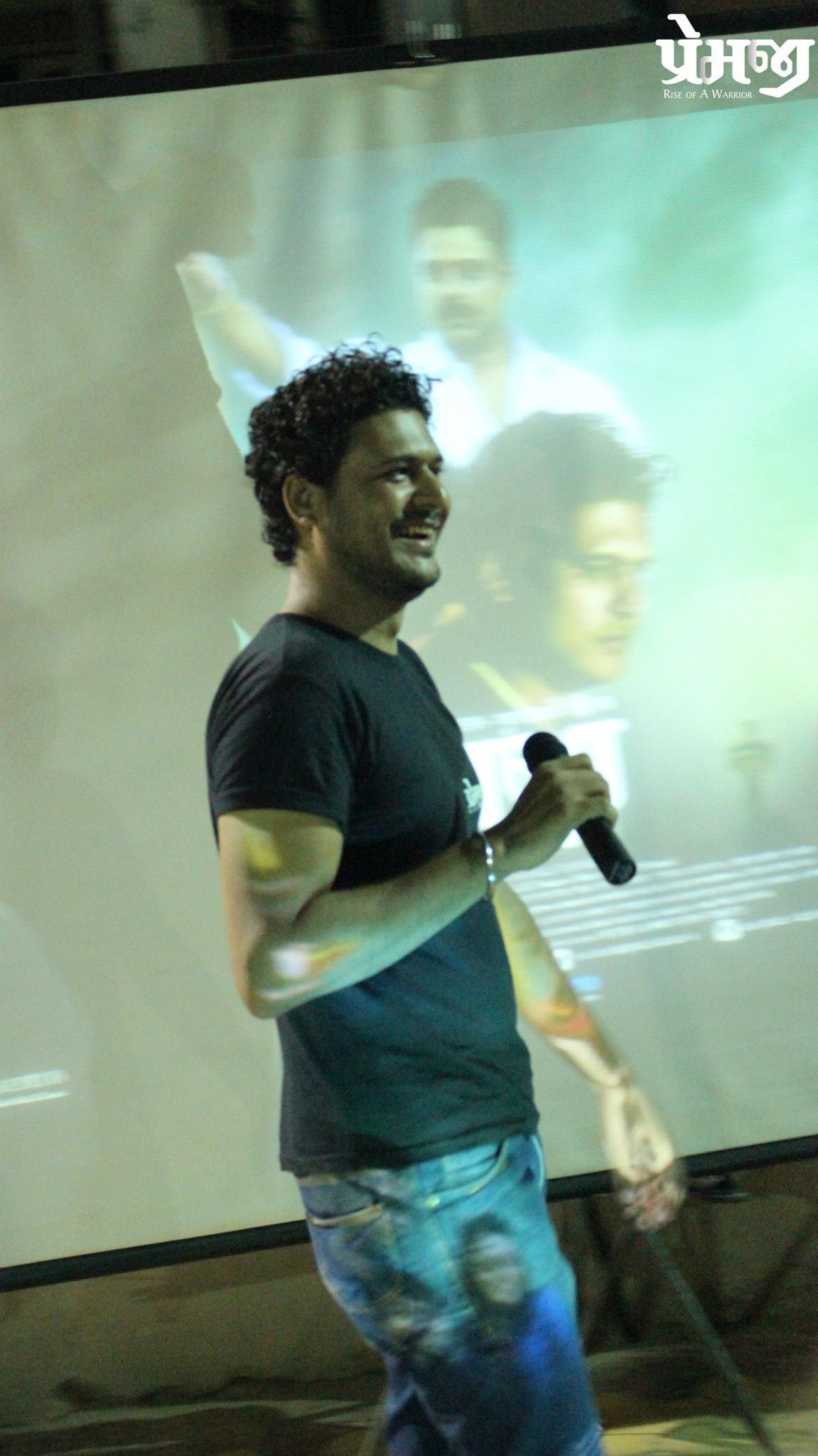 Rahul Soni: What message you would like to give to your audience?
Mehul Solanki: I would suggest everyone to go to theaters and watch more and more Gujarati films… in that matter, any film. Watch the films for yourself and decide for yourself if you liked it or not… do not be dependent on the reviews.
Rahul Soni: What do you do in your free time?
Mehul Solanki: I like to cook whenever I am free… and as I am a big foodie, I eat a lot too. I love watching movies at any time and at any place. Whenever I am home, I make various handmade decorative items and paintings. I usually travel to the unexplored places of Gujarat with my friends.