Trending Groom Dress and Look – Rock the Fashion Charts This Season!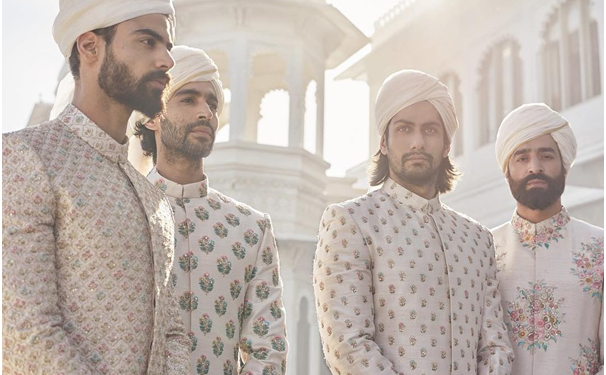 While of course there are a lot of stunning brides and bride dresses we always discuss, why should the grooms be left behind in his wedding? Here are some of the groom wedding dress ideas which will make any groom's wedding look entailed to perfection in terms of décor, attire and wedding venues.
Add a Simple Pink Kurta or Nehru Jacket
Most people think that pink isn't the oft-chosen hue but take it up as a challenge and wear it to perfection at your wedding brunch even if your bride is nowhere near pink. Go for a subtle and clean look other than a heavily embroidered wedding dress and you are sure you rock your look!
 Combine an Embroidered Lilac with a Silk Shawl
If your wedding is in beautiful purple and lilac hues there can be a beautiful sync here as well. While it is easy for the bride to select a lavender embroidered dress, the groom can wear lilac in an interesting way with embroidery and an ombre safa. A silk shawl can add oomph to this.
 Don't shy away from a Contemporary Grey
You will be surprised to know how good coordinated couples can look in offbeat colours! The groom can choose a light grey sherwani that totally matches the bride's grey outfit and look super glam! Who said you only have to go for the reds, pinks and blues?
Contrasts should be Welcomed
Well, grooms can show us that contrasting outfits look awesome too! Contrast looks great too provided you wear an elegant outfit and clean cuts and know how to carry your look well! If the bride wears a pink dress, the groom can opt for some nice mint-green sherwani or kurta as well which surely will make him more stylish than most grooms. Give a look to the groom wedding dresses which is surely to hit it off this wedding season.
Match that Necklace for an Elegant and Royal Look
Be a groom who matches his necklace with his bride.With a bright yellow kurta pyjama with a Nehru jacket for the Mehendi and an off-white and beige sherwani with that contrasting necklace for the wedding, you will rock that look with oomph!
Black Sherwani and Dhoti Add Style
Be one well-dressed groom and choose a wedding dress for groom which will leave others envy you!Time to stand out and be unique. Go in for a black sherwani with the dhoti which will make you look so dapper!
Choose a Semi-formal Black Outfit
Don't be afraid to go for an interesting semi-formal black outfit as well. Such an outfit can be worn with an attached dupatta and a special brooch! Lovely look, isn't it? Black always looks good. And remember, you are not going to be dead if you are not going with the traditional Indian hues.
Opt for a Unique Dusty Pink Blazer
Choose a dusty pink blazer on your Mehendi and you are sure to steal more eye balls. We've been loving dusty pink on grooms this wedding season. Choose a note-worthy outfit, including a unique blazer with floral detailing which will look so nice on the groom!
Purple looks Royal
The groom who lets Purple lead the way is surely someone we can't take our eyes off! How beautiful is brocade on a man? Choose a beautiful silk in a colour like purple and you will be surprised at the magnificence! One look to go for!
Pop hues add Glam
A groom who hits us up with some pop hues deserves an award surely. Contrast your neutral sherwanis with a big splash of colour – one in pink and one in peach. So so chic!
Boys are not scared to experiment, and this is one new trend which is really catching up this season!
Yup, as opposed to the plain ol' plain or cream dupattas that grooms are used to taking with their sherwanis, no matter how plain/floral/embroidered they are, these days grooms are getting experimental, and this trend is cool as long as the embroidery and embellishment is elegant and not gaudy when it comes to wedding dresses for grooms these days.
Here are something's to keep in mind when considering to sport this trend:
These embellishments especially look royal when done on rich fabrics like velvet or satin, but if the fabric is rich, do not overdo the work.
If the dupatta is in the same colour family, you can afford to go a bit overboard with the work.
If the dupatta is contrasting to the sherwani, then keep the work spaced out and not all over.
Just an embellished border also works!
We love grooms who experiment with their groom dress! Not just in terms of designs and silhouettes, but colours as well. We are seeing grooms rock so many awesome new hues, which look smashing and creates a difference in the overall look! So here are 7 new hues for the 2018 groom- colours you can choose to rock on any function of your wedding!
Lilac
We've been in love with lilac off late, and it's such a subdued and pretty colour! It looks cool and is a great color to experiment with during the summers, as it gives one a feeling of freshness. A nice lilac Nehru Jacket or a pocket-kurta is just what you need to keep it simple.
New age pastels
Pastels for grooms have been really trending off late, and even Sabyasachi had a lot of them in his latest collection! New age pastels, which are subdued and classy- like orange, green and pink look great on grooms!
Turquoise
A nice and bright shade again, which works so well during the day, a bit brighter than light blue, this is one happy shade! Turquoise is a cool color and one of the most appealing colors ever. It is chic, classy, different and trendy at the same time.
Magenta Pink
Nothing is off limits for grooms now, including a hot pink sherwani! Love it if you like to go loud! Magenta is not just for girls and it goes well with the Indian skin tone as well. We don't advise for an embroidered magenta dress, but go for simple clean cuts and jackets.
Blush Pink
How pretty does this blush pink sherwani look? Absolutely stunning, isn't it?Blush pink is intrend these days and looks absolutely glamorous. If you want to stand out as well-defined man who is not scared of any adversities, then this is the color for you!
Persian Green
This is also an interesting shade, which looks great! A subdued version of green, it's a great colour to rock on the Mehendi! It is such a soothing color and goes well if you have a fair or a wheatish skin tone as well. It looks royal too!
Bright Peach
Looks so nice and bright! Many grooms are spotted in pastel and light peach for a long time now, but bright peach is a hue still not many grooms try out, its surely does look lovely and irresistible.
Be stylish, be chic, be a trendsetter this season…..Rock that look with some oomph!