5 Hollywood Stars Who Rocked The Bullet Bra
Fashion is a changeable but it always comes back. It can be powerful and leave its impact on generations for years to come. It even has the ability to inspire its followers.
One of the most fashionable accessories during the 1940s and 1950s was the bullet bra. Daring, sexy, bold and sensual- this piece of clothing ruled the fashion segment. The conical shape cannot be forgiven till date. It is still admired and is ready to make a global comeback.
The Bullet Bra
Jean Paul Gaultier designed one such piece for Madonna for her Blond Ambition Tour in 1990 and gave her the perfect stage look. In 1999, What Katie Did which made vintage underthings and hosiery, was a lingerie company which brought back bullet bras into modern production. After this release, other companies have also started to come up with their own version of the bra.
The era of the bullet bra saw women at large looking fabulous wearing it, be it in a party, to the workplace or even while walking down the road. The conical bra was destined for setting a fashionable milestone for the years to come. The women looked confident and fabulous in their curves and the bullet bra acted as an accessory which helped them look curvier.
The iconic shaped bra was also called The Torpedo Bra or The Cone bra and was made famous by various Hollywood beauties and flaunted around the world. It was especially adorned under fashionable tight sweaters by them.
The top 5 Hollywood actresses who looked effortlessly chic in these bras were-
Marilyn Monroe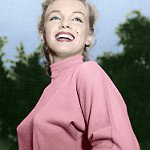 Still raged on for her curves, style and persona- Marilyn Monroe can never be forgotten. Still recreated on Halloween nights and party goers, she is still a huge fashion icon. Marilyn was one and only and was adored and admired by all.
Regardless of her full figure, she never hid behind baggy attire and was found in body fitted clothes.  She believed in structuring her look.
She looked amazing wearing the bullet bras and sporting her cashmere sweaters. Her hourglass figure looked enhanced as the bra accentuated her curves.
She also wore girdles for a cinched waist and they did do wonders. Her beauty mark mole, red lips and perfect hair have been an inspiration for many. Her fame and following still lives on today.
She gave the bullet bra an unspoken approval for her fans.
Elizabeth Taylor
A silver screen legend, Elizabeth Taylor is still known for being the beauty queen that she was and the fashion icon that she will always be remembered for.
With her covetable curves and perfect smile, she always looked stunning and elegant. As 1950s was all about a full bust, small waists and and round- shaped hips, her figure looked perfect and was accentuated in bullet bras.
She looked sassy in turtlenecks and slinky waist belts as the iconic bra did wonders for her frame. Considered to be one of the most beautiful women, her fashion preferences are still enviable and largely adopted.
Lizabeth Scott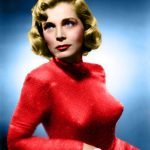 An American actress, Lizabeth Scott was known for her smoky voice and being one of the most beautiful faces of cinema. Apart from getting featured in movies, she was also seen on television and on the stage.
She was a sleek actress, bold and looked amazing in her sensual clothes. Lizabeth looked exceptional when she sported the bullet bra which enhanced her bold persona.
The evidence of her exquisite attires are still available today as she looked ultra glamorous in her clothes over the conical bra. A popular actress, her adventurous career and personal life were always in the limelight.
Jayne Mansfield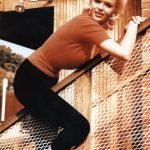 One of the sweater girls, Jayne Mansfield looked glam in her bullet bras and tight fitting sweaters. Her bustline looked enviable as she always made a fashion statement. The soft fabric cashmere sweaters made her bust look perky.
She was a huge sex symbol and had a fashion style worth noticing.  Red lipsticks, planned 'wardrobe malfunctions', slinky dresses were one of her statement looks.
She flaunted low- cut shirts and tops and was referred to as The Cleavage Queen. Her accentuated bust in the bullet bra looked flattering always.
Apart from being beautiful she also had an IQ of 163 and spoke five languages.
Carole Landis
A consistent glam queen, Carole Landis had an alluring 40s style. The One Billion B.C. star made the bralette and high waisted mini a statement.
She was named the best dressed screen star in 1942 by the Fashion Academy of New York. Her trademark hairdo, small waist and prominent bust in the bullet bra looked worth holding onto.
She was an iconic actress who had a rather sad life as she couldn't find the stardom and respect that she deserved. She did several roles in B movies but always looked her very best as she always looked stunning and had a perfect face.
The bullet bra did wonders for her and she is remembered till date. Often viewed as an extremely prominent piece of clothing, bullet bras did rule the fashion world. The pointy cone might be seen as something too risky but it was unique. It does leave one in nostalgia today as it brings memories of the old, curvy days when the body was more enhanced.
Bullet bras are worth remembering and holding onto. They have been revived in the past few years and has come back after their rage in 1940s and 1950s. Once made popular by the 'Sweater Girls', the bullet bras are once again in notice. The fashion of tight sweaters over the conical bra can still look stunning.
Many companies are making their own version of the bra and it may be a fashion statement once again. These can look good on all body types as an enhanced bustline can look good on all and make one seem more sensual.
Apart from sweaters, they can also look good on fitted tops, high neck dresses and body hugging shirts.
Author Bio- Rebecca Siggers is an avid reader who enjoys getting lost in the world of books. Caught by the fashion bug, she also writes for kinnairdireland and truecorset. A traveller by heart, she enjoys meeting new people and experiencing new cultures.