7 Latest Fashion Trends for 2018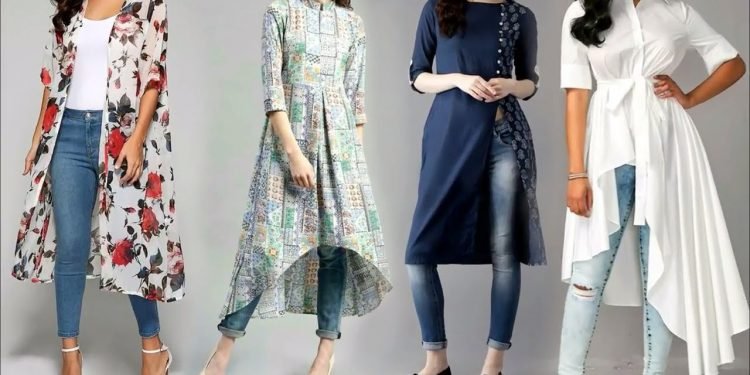 New year! New beginnings! New resolutions!  The first few weeks of the year got spent juggling these three arenas. And now as we enter the second month of the year, its time to give our wardrobes a rejig. It's a perfect way to welcome the upcoming months of the year 2018.  The Spring Summer fashion forecast for this year gives a colourful start to the season with emphasis on pastel shades, bold prints and sheer fabrics. Before the spring season comes knocking, we give you some hints about the trends that are going to rule the fashion scene this year.
Sparkles
Sparkles, sequins and shimmer are going to be the in thing this spring. For a long time,  sequined and shimmery clothes have remained a part of night time wear.  But this year,  you can don the shimmery look in daytime as well. While opting for a sequinned dress for the day, go for a minimalistic look by picking shimmery clothes in toned down neutral colours or pastels. Pair a shimmery jacket or a robe with a single toned dress or with a plain tee and pants to be the centre of attention. Opt luminous fabrics with a metallic sheen for your evening wear to maintain the sparkling element in your night time look.
Purples
Having been declared the colour of the year 2018 by the Pantone colour institute,  purple and all shades of purple especially lavender, will dominate the fashion scene this year. Purple is hailed as the colour of opulence and royalty. You can wear this colour in endless ways. Lavender is just the right shade to wear this spring season. This shade gives a fresh feel to your look which goes well with the spring season. Deeper shades of purple will replace the colour black, so if you are thinking of wearing a suit any time soon,  go for a deep purplish hue instead of boring black. You need to strike a balance by pairing bright violets with clothing or accessories in toned down shades. Lighter shades of purple work well with whites or shades of pastels in deeper hues.
Gildan 64550L – Softstyle Ladies Deep Scoop T-Shirt
Checks
Checks were showcased as the fall fashion trend last year. This year they are back with a bang in the spring-summer collection of 2018. Checks used to be a coats and pants only print but this time this print has found its way in tops and skirts in brighter tones. Mix up your outfit with a checkered skirt worn with a bright coloured top or wear a checkered jacket in primary hues green,  red and blue over a single coloured dress. Adding this print in your outfits gives a beautiful multi-dimensional effect. Pants or pencil skirt in tiny check prints worn with a classy thin belt  and a shirt in contrasting shade creates a breezy summer look.
Fringes
Clothes with fringes featured on runways of all major fashion capitals making it the next best thing to look for in clothes this summer. Dresses and skirts covered with fringes on the lower part make a great style statement. Fringes work best on clothes that are not too revealing and give your body the needed coverage. Trousers and long skirts with fringed hemlines  look great if worn with jackets and long shirts. When choosing fringed clothes,  don't make the mistake of selecting all the pieces with fringes. Pick one fringed clothing item and pair it with other items without fringe or other detailing.  Jackets or overalls with fringed sleeves also look great if worn over sleek bottoms.
Puffed Sleeves
Puffed sleeves are making a comeback more frequently in the last few years.  This year also, it appeared on spring-summer fashion runways. With these sleeves you can let your arms take a break from the skinny sleeve styles.  Puffed sleeves add a feminine touch to your clothes.  If you pair them with the right clothes,  they're sure to make you feel like a style diva. They look great with bell bottoms or A- line skirts. Depending on your body type you need to choose clothes with puffy sleeves wisely.  Whatever the design of the puffed sleeve,  make sure that the clothing has structured shoulders and fits your body snugly around the bust and waist.
PVC Coats
If there's something that stood out completely in this year's spring summer fashion scene,  it was plastic clothing.  Whether as coats, jackets or transparent hats and other outer wear, plastic remained this seasons favourite pick for outer clothing. Coats and trench coats made from PVC are great for protecting your other clothes in the unpredictable spring showers. So, be rain ready with a sheer plastic jacket worn over tees and jeans or skirt accessorized with plastic boots and transparant PVC handbags.
Artistic Prints
Let your clothes be the canvas this spring season with art inspired prints and motifs in clashing hues. To avoid going overboard with this look,  keep things minimal with only one artistic piece at a time.  Complement it with clothes and accessories in subtle tones. If you are wearing a one piece dress with art inspired prints, tone it down with a thin corset belt. Pick tees with graphic prints and other clothes that showcase abstract artwork. To create the right look, go with clothes that focus on three basic colours in their artistic patterns.
Sheer Fabrics
Clothes with thin transparent fabrics add a flimsy element to your clothing.  Clothes in sheer fabrics work great if they are layered with other clothes in solid colours worn underneath. If you are not in favour of layering,  try wearing sheer dresses with ruffles on specific areas for added coverage. Ruffles add an element of mystery to your clothes and work best on ultra thin transparent fabrics.  Whether you layer or not,  clothes in see through fabrics add a whimsical and feminine feel to the oufit. Try wearing a sheer flowy knee length dress over a slip dress for added drama. Complement sheer clothing with accessories in solid colours to achieve a realistic look.
About the Author
Amanda is a hard working Professional with a degree in Business Management. Apart from her daily job, She loves working in the Fashion Industry. She has been working with TshirtIdeal.ca for some time now. Amanda Keeps up with the fashion trends and loves fashion blogging and makes sure that her lifestyle reflects the same.