Best Rowing Machines (TOP 5)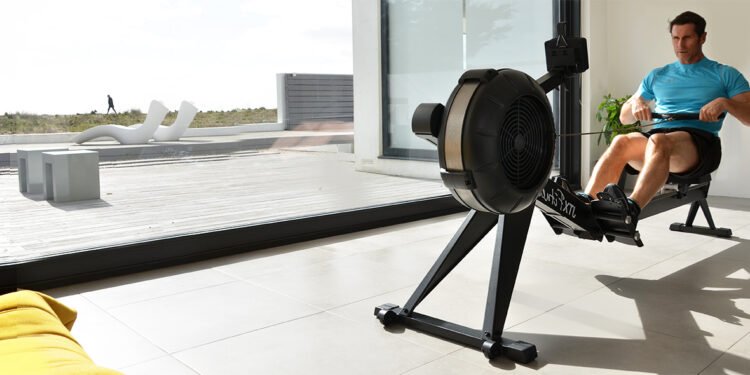 If you have been into the fitness sphere for long enough you might have known and used a lot of fitness equipment. A lot of this equipment is made and designed in a way to target a particular body part and help in toning or strengthening them.
Very few are those which are all in one and you do not need to invest in anything else. The one which we are talking about today is the rowing machines. As the name suggests these exercising machines involve rowing movements as if you were rowing a boat.
These machines are comfortable for beginners as well since the user can decide the resistance offered by the rower. In some models, it is usually controlled by resistance on the bar or by adjusting the force you put.
The rowers also have a digital monitor to let you know the speed, number of strokes, distance, etc. Apart from this, we also have a list of best rowing machines for you in case you have been wanting one:
1) MERAX Water Rowing Machine
Merax is one such brand that takes pride in providing its customers with products in various categories such as home, travel, fitness, pets, kids, etc. This one right here is one of their bestsellers in the fitness category.
With a maximum user capacity of 330 pounds, it is built firmly, and being a water rower produces that calm and relaxing splashing sound while rowing. It has a dimension of 78″ x 20″ x 25.5″ which can be a perfect size for your living room. The rolling wheels make for easy shifting and storing.
Features:
Stronger Resistance Adjustment
Quiet and smooth Rowing
Multi-Feature Rowing
Customized Rowing Experience
Space Saver Equipment
2) ECHANFIT Foldable Indoor Rowing Machine
Enchant is another name you can rely upon and trust when it comes to your gym equipment. For those who are looking for affordable options, you should check this out once since it is priced under $500. In terms of storage, it is pretty good since it is very compact and can be folded also.
The thing to be noted about this particular rowing machine is that it comes with sixteen different tension levels which can be altered according to the user`s wish.
Also read: How To Start Exercising At The Gym? You Must Know This Before The First Workout!
Secondly, it has something called Silent Magnetic Resistance which is responsible for the quiet functioning of this machine. It comes with wheels as well to help you transport it from one room to another.
Features:
Sixteen levels of tension
Silent Magnetic Resistance
Professional Safety Folding Design
Personalized Customization Rower
Bottom wheels
3) JOROTO Magnetic Rower Rowing Machine
This one from Joroto is yet another one that is more on the affordable side and still does the job perfectly. The looks of the rower is a very sporty and trendy one. Most of its body parts are made up of aluminum such as Aluminum Flywheel, Aluminum Slide Rail, etc. which make it perfect for home use.
Also read: The Benefits of Choosing the Plant Protein Powder
The brand has been very considerate in making the seat`s height-adjustable from the ground and the pedals. The LCD Monitor which has some preset workout programs can also be set at a particular angle to suit your posture and provide you with the best comfort. The seat on this one is a wide one so that you focus only on the workout and nothing else.
Features:
Comfortable grip
Quiet operation
Saves space since it occupies only about 0.15 square meters of space.
Ten levels of adjustable magnetic resistance
The digital monitor helps track time and count calories
Comfortable workout routine
4) STAMINA ATS Air Rowing Machine
Under the price range of $500, this air rower can be a great addition to your gym due to great specifications and technology. Apart from helping you get through a full-body workout it also helps you burn calories, improve strength, and improve overall cardiovascular health.
The seats are padded and the footplates adjustable to give you that desired comfort level. Like the Echanfit one, ATS is also foldable and comes with wheels.
Features:
Padded seats
Textured footplates
Foldable
Dynamic Air Resistance
LCD Workout Monitor
Easy Assembly
5) Proform 550R
We don't know if you will be convinced about the amazing quality of all the products we have mentioned here and will be but what we can guarantee you is that all of them are from some of the breathtaking brands.
They have proved their worth and fame over and over again. One such brand is the Proform. The one fitness equipment that is featuring in our list of best rowing machines today is the Proform 550R.
With a heavy-duty steel body, this investment is going to last you a pretty long time. Even when it is plastic it is not a cheap one but something tough and sturdy. The resistance performance of this one depends on the exerciser`s performance which is the case in most of the rowers. To know more about this product and get an in-depth review you can go through this article by Fit Territory right here. But, some important features of the Air Rower are:
Dimensions: 5" x 22" x 25.5"
Assembled weight of the rower: 103 lbs
Frame: Made of heavy-duty steel
User weight limit: 250 lbs or 113 kgs
Warranty: five years for the frame and three months for other parts of the rower
Large LCD Window
Smr silent magnetic resistance
These were our five topmost picks for the best rowing machines. Before we say that which one has to be the one closest to perfection we must say that a rowing machine can completely change your workout and fitness game. The introduction of a rowing machine is going to change the way you perceive your body`s fitness.
Anyways, we have to say that all of them are good but we have to be a little biased towards the PROFORM 550R because it has received such great responses and reviews from all the customers who have used it. With that, we urge you to read this article and get to know this equipment better.