Why Magento is the Best eCommerce Platform to Support your Business?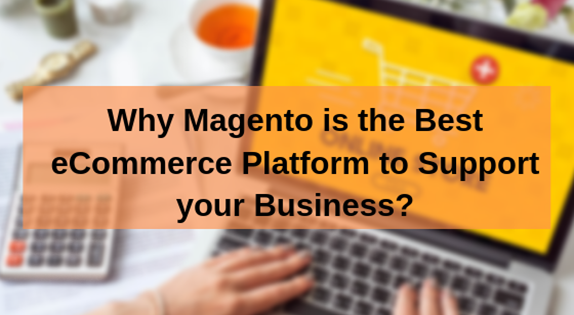 Do you want a super-performing e-commerce store? If yes, choose Magento to build your e-commerce website. Why Magento is the best e-commerce platform? We will discuss that in this article.
But before that, you need to know some top brands in the world who run their online stores on Magento. Those brands are,
HP Inc
Helly Hansen
JCB
Canon
Seat
Monin
Nike
Jack Daniel's
Jaguar and NCG and
Ahmad Tea
Aspects that Make Magento the Best eCommerce Platform to Support Your Business
Some of the advantages of Magento e-commerce platform is,
Magento is an Open Source Platform
Magento comes in three versions. They are,
Magento Community Edition (Free)
Magento Enterprise Edition (Paid) and
Magento Go (Paid & Hosted on Magento's Servers)
Furthermore, Magento is free to download and install. You can alter the source code according to the website you are building. Moreover, you can also install extensions available through the Magento Connect Marketplace.
Significantly, the platform gets updated regularly by the Magento developer community. Flaws in the platform can be spotted and plugged to ensure safety from an e-commerce perspective.
2) Search Engine Optimization (SEO) benefits of Magento Platform
Magento websites are SEO friendly for the following reasons,
Independent Navigation Links
Navigation links are the text links that appear for your product and category pages especially in the menus. With Magento, you get complete control over navigation links that is favorable from an SEO standpoint.
Independent Page Titles
The title text is used for defining bookmarks when saved by a user. Importantly, it is visible in the search results when a customer looks for products. Therefore, creating independent page titles has an impact on SEO and also helps in winning the click over other products in the search results.
Significantly, Magento gives you more flexibility, allowing for independent page titles on more than just your homepage.
Customizable H1 Tags
It is a known fact that H1 Tag is the most visible content on a web page. This means it is an optimization for the user. Herein, SEO aids in optimization for the user and not just search.
Significantly, the Magento platform can be set up to allow for customization of the H1 tag. This enables you to make it different from the product name if you desire so.
Canonical URLs
As part of your SEO strategy, you obviously use canonical URLs to tell search engines which content is a duplicate of the original page and where to redirect traffic.
Significantly, Magento aids in e-commerce SEO where you can set a canonical tag to appear on category and product pages in the configuration section inside the Magento admin panel.
Integrated Content Pages
Content is a major factor in SEO. With Magento, you won't have to upgrade your service or incur any extra costs if you want to make blogging as a regular part of your marketing.
Faster Load Times
Site speed matters in SEO. This is true in a world where e-commerce moves toward mobile and customers on the go can't wait for a page to load. Importantly, Google considers site load time as a ranking factor in search results.
With Magento, your site load time can be faster. You can use flat catalogs to reduce SQL queries to cached storage and merging JavaScript and CSS files.
Moreover, Magento's architecture is designed to handle heavy traffic. The loading time of the pages is increased, reducing the server load.
3) Magento is Tailor-Made for eCommerce
Key features of the Magento platform that makes it light as the breeze is,
User Dashboards
Customer Segmentation
Inventory Management
Advanced Shopping Cart and Supplier Management
Allows Bundling of Products
Built-in Cross Selling and Up Selling Capabilities
CMS Option
Newsletters
4) No Hosting-Related Restrictions
Magento allows you to choose the hosting solution. Moreover, when you migrate your store there are no restrictions on when and where you could host your store.
5) Magento Doesn't Penalize You for Growing Bigger
You can add as many features you want without spending a dime. Moreover, with Magento, you don't have product limits; product lines and SKUs that can be uploaded and displayed on a platform.
Even when your business grows bigger you need not pay higher fees for your platform.
6) Third Party Components Integration
Magento offers limitless and restriction free integration of all third-party components. This shortens the development and deployment timeframes considerably.
Furthermore, with the help of the extensible API in Magento, you can connect to any application or plugin. Be it payment gateways, an analytics tool or shipping, and tracking method, you just need to find the best extension and plug it to your Magento store.
7) You can Run Multiple Stores
With Magento, you can set up multiple stores that can be managed through a single backend. Interestingly, you can control stores' inventory, orders, billing, customer information using a single admin panel.
8) You Have a Default Responsive Design
Magento incorporates HTML5 capabilities that ensure your storefront has a responsive design that caters flawlessly to mobile devices. Furthermore, you have features like Griding, image scaling, AV capabilities, gesture controls, drag-and-drop, etc..
9) Magento is Secure
Security is a must in an environment where hackers try to crack databases every minute. Your e-commerce store should be hack proof. In line with this, Magento is always tested by a vast number of developers.
Magento experts constantly search for defects and eliminate vulnerabilities by uploading patches. Magento draws your attention to updates and other fresh developments periodically.
10) Magento Provides you the Complete eCommerce Tool Kit
Shopping Cart- With ease customers can complete the whole shopping process.
User Account- Shoppers can quickly access their purchase history, check their orders or save products that they intend to buy later. They will also be able to store information.
Management- You will be to manage transactions in the admin panel, start and complete the shipping process or resolve complaints.
Product Management- With Magento, you can import and export thousands of products. You can also at the same time modify their attributes. Furthermore, you can upload images, set custom pricing conditions, and decide what to show and how to show them in your shop window.
Marketing– You will be able to run promotions, create unique sales deals, offer free shipping and other special bargains. You can make it possible for the shoppers to share your product pages easily with each other on social media sites.
11) With Magento, You Can Become Friend with Google
Yes, this is true. Some of the fascinationg rollouts from Google can be enjoyed with Magento. For example, Google Checkout, Google Analytics, Google Base, etc..
12) A Host of Marketing Tools
Some of the marketing tools available with Magento are multi-pricing, landing page tools for campaigns, flexible coupons, private sales, etc..
Final Thoughts
Before wrapping up the discussion let us quickly skim the above mention facts in a nutshell.
Magento platform will support your online business in the following ways,
It has simple and easy to use features.
Flexible Content Management System
Good for marketing: Generates revenues and sales from effective tools like cross-sells and upsells that entice users to buy more products.
Magento creates search engine friendly URL's that are good for marketing.
One of the best things about Magento is that it provides an inclusive range of features in a well-organized manner.
Updates the website automatically.
Supports multiple websites to promote products and services across domains.
Mobile-friendly Configuration: Magento is responsive and completely mobile-friendly.
Advanced SEO. Magento's advanced SEO support features give your products a great chance to rank on all popular search engines like Google, Yahoo, Bing, etc.
Author Bio
Isaac John is a Content Manager at Zuan Education which is a Magento training institute. He is a strong supporter of Digital Marketing and especially e-commerce. He favours Magento to be the most reliable e-commerce platform.