eCommerce Website Marketing Plan for 2018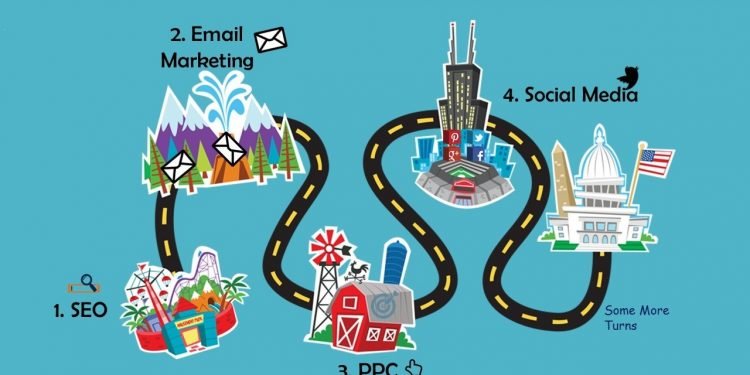 In last 10 years we have seen many changes in Google algorithems, here in this blog i would like to cover all the onpage and Offpage ecommerce marketing plan that you must follow for your ecommerce website. So lets start with the onpage Optimiation.
Keywords Research:
Most of us are only using google adwords tool to check keywords but there are other tools we must use to find keywords such as ubersuggest, semrush, ahref, kwfinder, etc to find keywords now you must be thinking that most of them are paid tool so here i woulld like to give you solution for that you can buy all the tool at very cheap price, Check SEO Tool Here.
Website Must be with HTTPS
In todays time it is highly required that your website must be with HTTPS. It is also considered as one of the ranking factor. So never compromise in that because having secured website will also gain customer trust and they feel comfortable to make transaction on the website.
Competitor Analysis
Before you start writing title meta and working on onpage activities, first check out your competitor tite meta and know how they are performing also check their website performance using ahref and semrush tools. After that you will know on which keywords you need to work hard and which keywords will rank easily. Always use title meta length checker tool to maintain its with proper length. Keep competitors backlinks profile report to utilize when you start doing link building.
Another most important things you should check in your competitor site is Call To Action. Check what are the offer they have on their website, if your product is seasonal then check what are their newsletter templetes, subscribe to all your competitors newsletter so you can know what they are offering.
Loading Speed Optimization
Yes, some of the things will be always requried like loading speed optimization, in todays time most of the website loading time is really high and in mobile it takes even more time to get load. You can always opt for AMP (accelerated mobile pages). AMP pages will helps a lot to get your website perform well in Mobile.  You can check GTMetrics and Google Speed test tool for that.
Schema Markup
Schema markup code is highly required to stand out your website in search result pages. For ecommerce website having schema code is must. You can utilize all the potentials benefits of structured data markup. Even if you are not much familier with HTML code you can simply access the needed web files and you can tage the advangage of the simle implementation using google tag manager also and after placing the codes you can check using Strucutre data testig tool.

Robots.txt and Canonicalization
Make sure that you have nofollow noindex tag before you launch your website and once all onpage optimization is complete then only you start promoting your website. Because when you have proper title meta your website will get rank quicker. Make sure that your website less important pages are not indexed such as privacy policy, terms and conditions, faq etc.
Webmaster Clean UP
Once you submit the website in google using webmaster tool make sure that you have fix all the crawling errors and clean up the all the HTML improvement that required. Also keep checking webmaster errors on daily basis for better improvement.
Social Buzz
To get maximum from social sites you can promote your website by doing paid marketing on social sites. you can target audience that are physically located at your targeted country, city and based on their interest.
Best Price Offers
Maximum customers make buying decision based on price, for you it is most important that the price are most affordable, for that you can use promotional offers and make one page for coupon and give discounts to your customers, we can also promote website using email marketing.
PPC Campaign Strategy
Before spending single $ in PPC campaign make sure that website is fully optimized and loading time has also been improved after that analyze that which of your competitors are doing PPC and what are their budget and that you can know from Spyfu. You can also check the same thing at semrush.com.
Find out which kind of advertisment will suites your business best like shopping ads, text ads, display ads etc. If you are willing to start shopping campaign make sure about the best price and schema codes has been placed properly. Keep your budget lower for one or two week once you start getting data you can optimize it even better and check on what keywords you get maximum impression and clicks.
Off Page Optimization Plan
In todays time most of the ecommerce client are not ready to do this kind of activities that gives result late and yes if your clients more active on paid ads he would probably less interested in doing SEO. But you can convience him for doing importnt link building activies such as local business listing, content marketing, Press Release sharing, forum engagement etc.
Local business listing
It is highly important that you complete local listing for all major website because it will 100% help you improve your website domain and page authority. Local business listing also help to improve your brand value.
Content Marketing
Generally content marketing works better for services based website but you can always opt for paid guest post because you will get direct benefits of other blog traffic and you can find your product theme based blog. Always prefer to have blog page on your website because it will bring you lots of traffic in the future and Google will also consider it so at list update 4 blogs in a month for better promotion.
Conclusion
It is very important for ecommerce website marketing to focus on all the elements. Above all the elements will help improve performance gradually.  In Digital marketing field it is very important to stay updated with latest techniques so reading moz blog and search engine land blogs are the best platform for the marketers. if you are looking for complete marketing solution for your ecommerce website just drop one email on rrsoni007@gmail.com. I will get back to you soon with a concert solution after review your site.