90 Best Memorable Graduation Party Ideas Your Grade Will Love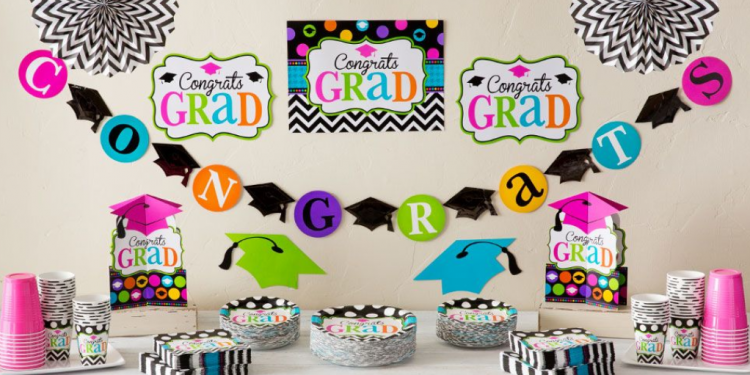 It is the season for graduation, and if you have a graduating grader this year, you may want to celebrate the special event as a reward for doing well in school. The florist can help you plan and organize the perfect party your little, big child deserves. Here are 90 best memorable graduation day party ideas that your grader will surely love:
Happy Graduation Banner
Banners will make the venue look impressive and festive.
Batch Balloons
2019 batch balloons are available in different sizes and colors.
Photo Booth
Party people, especially the graduates, will definitely keep memorable photos of the event or celebration.
Mason Jars
You can fill up the mason jars with sweet treats and party favors and top it with a mini grad cap.
Grad Cap Cupcakes
A graduation cap can be the perfect design for cakes and cupcakes.
Tassel Garland
Decorate the party venue with colorful tassel garland.
Timeline Photos
Photos can be displayed on the wall using twines and clothespins to show the timeline of the graduate from infant days to childhood days to graduation.
Cupcake Toppers
Instead of flags on top of the cupcakes, you can use photos and greetings.
Grad Cap and Diploma Table Decoration
The graduation caps and diplomas can be a perfect party idea to decorate the tables and to add glamour to the celebration.
Graduation-Inspired Desserts
Candies and marshmallows can be designed into grad-inspired desserts for the graduation party idea.
Candy Buffet
Add color to the buffet table or to the entire party event with bowls or jars of colorful candies.
Colorful Balloons
Let the balloons hang and float in the ceiling to add festive and cheerful ambiance to the party venue.
School Color Themed Party
You can use the theme and color of the school to decorate the party venue.
Luau Theme
Luau theme party on graduation celebration is a great idea.
Straw Toppers
Match the cupcake toppers with straw toppers. It could be a grad cap or a diploma or flag or mini banner.
Pop Cake with Grad Cap
Design the pop cake with a smiling face and with a grad cap on top. You can also accentuate each stick with tags.
Grad Cap Cookies
Grad cap cookies can be used to add party favor for the graduation party.
Graduation Wreath
Bring out those photos and arrange them in wreaths.
Swiss Roll Diplomas
Tie each roll with ribbon and make them look like a real diploma.
Table Napkin Diplomas
White table napkins tied with ribbons will surely accentuate the buffet table for the graduation celebration.
Celebratory Table Centerpieces
Fun boxes filled with glittery flags of printed messages are a nice party idea for graduation tables.
Grad Cap Cake Tower
Cake in grad cap design will turn the celebration into a festive party. The big cake is sure to cater to all the guests.
Instagram Party Idea
You can add Instagram photos to the wall decoration using different materials.
Classic Picnic Style
A classic picnic style of party is perfect to celebrate the graduate.
Sports-Themed Party
Basketball or football or volleyball, throwing a sports-themed party is a nice idea, especially if your graduate is a varsity.
Instagram Hashtag
Party will be unique by creating a hashtag for the photos to upload on Instagram.
Wildflower Party
Incorporate and send wild flowers into the party, especially for a grad who has a wild heart.
Grad Cap Greeting Card Holder
You can add a greeting card holder in grad cap design. Each guest is surely excited to insert their wishes and greetings.
Jenga Greetings
A cute jenga set can be the pieces where guests can write their greetings and well wishes to the newly grad.
Class Ring Candies
The grad will enjoy the Class Ring Candies and share it with the guests.
Memory Board
Display a memory board filled with memorabilia from school throughout the years.
Grad Cap Dollar Bill
Folded Dollar bills into grad cap design are not just a nice party idea for decoration but also for gifting purposes.
Champagne Flutes Filled with Candies
Use the champagne flutes and fill them up with candies. For graduation-themed design, top the flutes with mini grad caps.
"Congrats Grad" Cake Toppers
This cake topper will surely make the party more meaningful and festive.
Customized Cake
A creative customized graduation cake can be the highlight of the party buffet table.
Photo Collage
You can be creative with a photo collage.
Graduation Pretzels
Pretzel pops can be designed into graduation cap using white and dark chocolates.
Confetti-Filled Balloons
Fill the colorful balloons with colorful confetti.
Left-over School supplies
Use old school supplies as main table centerpieces and decorations.
Wreath of Graduation Photos
If you have printed graduation photos, arrange them into a wreath for party decoration.
Nostalgic Photo Wall Decoration
Decorate the walls with photos and enjoy the nostalgic party idea.
Photos on Cans and Jars
Wrap the grad's photos on cans and jars and fill them with party favors.
Inspirational Quotes as Wall Decoration
Let the guests share their inspirational quotes to the grad and post them on the wall for a lovely wall decoration.
Grad Caps Backdrop
You can use mini or large replicas of grad caps as backdrop.
Keepsake Box
A keepsake box can be filled with wishes and greetings or sentimental keepsakes for the grad. Guests can also participate.
Memory Jar
Let everyone write their own stories of memories with the grad.
Cork Board of Keys to Success
Let guests and friends bring their personal "keys to success" to inspire the newly grad.
Light Bulb Souvenir
Fill the bulb with candies or treats to give as souvenir to guests who came and made the grad's life brighter.
Smiley Cookies
Let everyone pick a smiley cookie.
Giant Photo Wall
Simple but nice, a giant photo wall is a perfect decoration to congratulate and celebrate the grad.
Photo Booth Costumes
Fill the pale with photo booth costumes for unique grad celebration pictures.
Box of College Essentials
If next step is college, let everyone fill the box with college essentials as graduation gift.
Grad Party Pom Poms
Colorful pom poms are a nice party idea to add that will cheer the graduate.
Grad Party Paper Fans
You can easily DIY colorful paper fans and use them to decorate the venue.
Printed Grad Party Plates and Table Napkins
Cute paper plates and table napkins will enhance the table.
Classic Black and Gold Banner
A classic black and gold graduation banner is perfect for the party.
Basket of Cards
Place greeting cards for the graduate in a special wooden basket decorated with mini banner.
Chalkboard
Inspire and cheer up the graduate with chalkboard graduation cheers and messages.
Personalized Chocolate Wrappers
You can wrap chocolates and candies with personalized wrappers.
Writeable Grad Caps
Let your grad inspire his or her friends with inspirational quotes written on grad caps.
Cotton Candy Bar
Add favor to the party with colorful cotton candy bar.
Popcorn Bar
Let the grad enjoy popcorns and movies on celebration by adding popcorn bars.
Advice Tree
Ask guests to pin their advices on this advice tree.
Sunglasses as Party Favor
Sunglasses are a perfect party favor idea for graduation celebration.
Candy Bar
A graduation-themed candy bar will surely add colors and delights to the table.
Graduation Sign-In Board
This board is a perfect way to let the guests sign in and leave their wishes for the grad.
Graduation T-Shirt
Provide a marker and let the guests sign the shirt with their messages for the newly grad. It could be a school uniform or jersey.
Scrapbook
Family and friends, including guests can fill up the scrapbook with photos, remembrance, and messages.
Life-size Graduation Picture
The big cut out is a perfect piece to welcome the guests.
Tabletop Photo Lanterns
Placed on each table, the photo lanterns is a nice party idea that you can DIY.
Graduation Jar of Money
A jar can be filled with money rolled and tied like a diploma.
Congratulations Banner
Leave it blank or have it printed, this banner can also be used as guestbook.
Graduation Tray
Spell GRAD using carton boxes and decorate them with glitters. They are a perfect tray for treats and favors.
Words of Wisdom Jar
For the graduate, guests can write their messages and place the cards inside the Words of Wisdom Jar.
Floating Lanterns
End the party at night with floating lanterns. Each guest may say their wishes before sending off the lanterns up in the sky.
Flower Leis
Congratulate the newly graduate with flower leis.
Candy Leis
Candy leis are also a great party idea and graduation gift.
Money Leis
Money can be arranged into leis and will surely be a cool gift for the newly grad.
Decorated Front Walk
Paper plates spelling out "Congrats" can be used to decorate the front walk.
Welcome Sign
This will also serve as decoration.
Money-filled Balloons
Balloons will not only be used as decoration but as gift, too.
"Then and Now" Pictures
Then and now pictures will definitely bring back memories.
School Pins
Decorate the venue with school pins.
Emoji Grad Mylar Balloons
Turn the venue into celebratory room with emojis.
Graduation Cap Gift Tags
Party favors can be tagged with Graduation Cap gift tags.
Party Sign Class or Batch Year
You can add party sigh of class or batch year for picture-perfect corner.
Princess-themed Party
For a lovely daughter, this theme will make the party memorable.
Rock Star-Themed Party
For a school rock star, celebrate the graduation with rock star themed decorations.
Graduation Gift Towers
Gift towers arranged impressively will be a perfect table centerpiece.
Graduation Money Cake
The money cake is a wonderful graduation gift for a newly grad entering college.