6 Ways to Wear Chinos for Men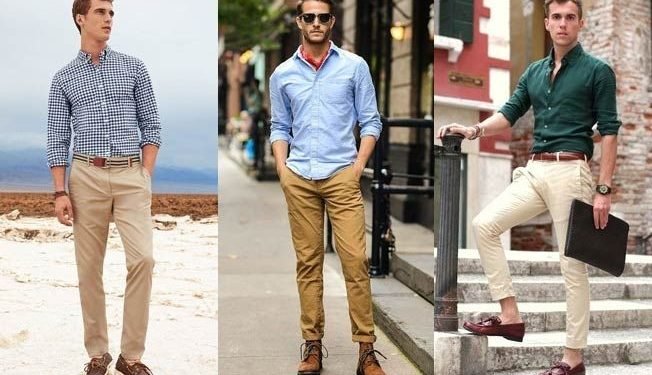 In the fashion world, jeans have so far ruled the market. However, this all-time favorite apparel has found a new rival. Yes! We are talking very much about none other than the chinos! However, there is no need to pick up a favorite, because both jeans and chinos fit the bill for being trendy, versatile and comfortable.
Jeans and Chinos are quite similar as they both can go with literally anything. The difference between the two, however, is the fabric. While both are made out of twill fabric, the twill used in  jeans is much heavier than the one used in chinos.
Coming to the chino, it is simply a casual cotton pant. But it is absolutely an incredibly versatile option which pairs well with a lot of other apparel and can be dressed up for numerous occasions. Not only that, it is a very comfortable and stylish piece of clothing that would make you look trendy and cool. Chinos can be worn formally as well as informally. They are available in a variety of fits and colors. And the great thing is that chinos look great on men as it does on women!
Let us look at some of the ways chinos would look awesome on men.
Formal Wear
A stylish way to wear chinos is as a formal wear. Wear them to office or a formal event. You can team up the chinos with a dress shirt, silk knit tie, sports coat, and leather loafers. If you want to be formal yet get an office-casual look then you could loosen up the tie, wear sneakers rather than loafers and wear a sports shirt with a casual jacket.
Chinos – Dressed Down
A button down shirt and a pair of moccasins worn with chinos could get you a perfect casual chino look. For this look, just treat your chinos as you would treat your jeans. A plaid shirt or a v-neck shirt goes well with chinos to get you a perfect casual look. This look could go well for a casual evening out or simply while hanging out with your friends or try burgundy red stretch cotton chinos to impress your girlfriend!
Casual Summer Outfit
Chinos are lighter than the jeans which makes them ideal for summers. Cuffed chinos with leather flip flops, summer belt, and a white v-neck shirt would be a very unique combination and ideal to give you a casual yet elegant summer day look. Alternatively, you could go for a polo t-shirt and fashion sneakers.
Summer is the perfect time to wear light pastels and vibrant shades like pale blues, seafoam greens, salmons, and reds.
You could also pair your chinos with a customized T-shirt that to give them an extra edge.
Slim Fit
Another great option is a slim fit chinos. The slim fit chino is perfect for men who want to maintain a high level of style. Pair it with a blazer, and the royal blue stretch cotton chinos are the perfect replacement for suit trouser.
The slim fit chino needs no cuffing and yet it allows you to create a gap between chino and shoe. Additionally, the slender look creates the impression of increased height.
Wide Leg Chinos
The wide-leg chinos are ideal for the built gentleman as they create a more natural body balance between the torso and the leg. The wide leg chinos are fashionable and will give you a unique look. However, you need to avoid them if you are short in height as they create the illusion of being even shorter.
Chino Shorts
Welcome to the laid-back days of shorts! Chino shorts are not only super cozy but also classy! If you love experimenting with fashion then these chino shorts are a must! Yes, they are trendy, elegant and make a hot fashion statement. This is definitely true one you need to try, especially during a vacation and summer days!
Apart from the above styles, you can very comfortable use the chinos as gym apparel. The chinos shorts especially are airy and simmer friendly providing the comfort and style!
So all in all, chinos are definitely the style statement and a very chic look to get! Some colors one must experiment with are beige, navy, jet black stretch cotton chinos, grey and bright pastels. Chinos surely need a place in your wardrobe!
Author Bio
Harold Camaya
She is a blogger who loves to write especially in Beverages vertical. She co-authored Supercharge Organic Traffic: A popular course focusing on Organic Traffic for Ecommerce.. Her hobbies are travelling and reading novels.