VACATION OUTFITS for 2018
Whether it be celebrating the holiday season or escaping the bleak winter days, we all have our excuses for planning an exotic vacation. Before you head off to a serene island or get ready to soak up the desert sun, you'll need some outfit inspiration to pack your suitcases. If you have your itineraries and passports ready, all you need to do is to pack some amazing outfits in your suitcases. If there's one thing you need to ensure before heading off to your travel destination, it's what to bring on a trip. No matter where you plan to travel this season, these vacation outfit ideas will keep your dress up game strong.
So head below to get some major outfit goals for your next getaway.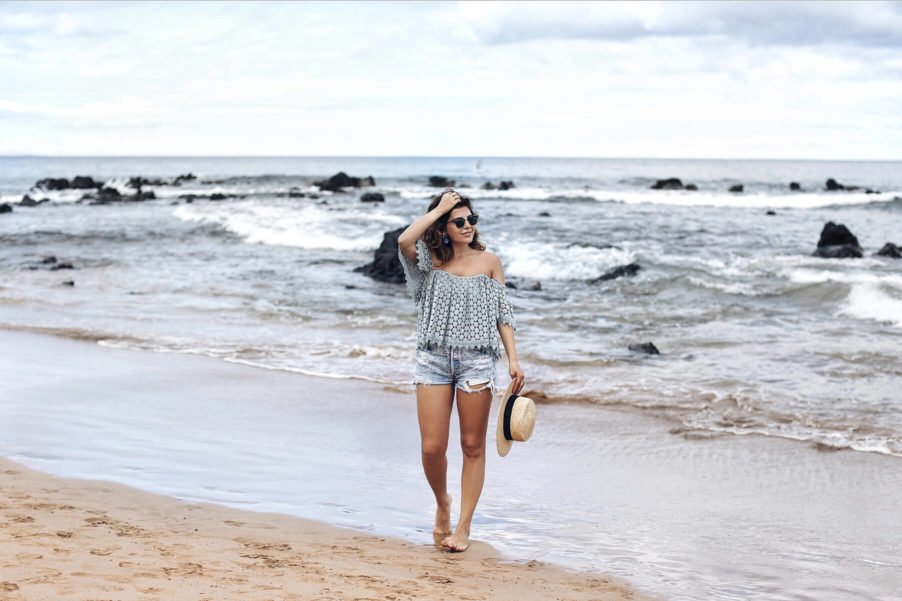 The Comfort Chic Look
 A perfect vacation outfit needs to be stylish yet comfy. You can look chic in the most comfortable way by donning a pair of ripped boyfriend jeans along with a lace up bodysuit and casual white sneakers. If you are heading to a cold location, then throw on a sleek leather jacket to nail a stylish winter look. To get some brownie points, don't forget to accessorize the look with a trendy chain bag and a nice big hat.
The Monochrome Look
You can easily manage to pull off a casual monochrome look on your vacation and still manage to look stylish. Team up a striped turtleneck top with a solid black regular fit pants to nail a stylish travel look. To give a more relaxed vibe to your outfit you can go for a pair of white lace up shoes and cuff your pants up. Since the monochrome look is more basic, you can jazz up the look with some accessories.  We all know that a travel look is incomplete without a cool pair of sunglasses.
The Minimalist Chic Look
The best time to nail an effortlessly chic look is on a vacation. You can achieve this simple yet elegant look by wearing a plain white tee along with a mid rise skinny jeans having raw-hem detailing. Add a chic quotient to your otherwise basic outfit for vacation by throwing on a stylish faux leather jacket. You can effortlessly ditch your heels for a casual pair of white trainers and add a pop of colour by sporting a statement bag.
The All White Look
An all white look is a bit tricky to pull off but if done right, it looks so classy. Giving a new meaning to minimal clothing, white can be your new go-to colour for your next vacay. The simplest way to sport the all-white trend is to pair a tank top with a high-waist chino trouser. This look is incomplete without fashionable accessories or just a little pop of colour. So opt for a pair of printed sliders and a statement worthy studded tote bag. You can also add on a pair of round framed shades and a classic monochrome hat to nail this vacation look outfit.
The Preppy Casual Look
Slogan tees are having a major moment this season since it's a modern way of letting you say what's on your mind. You can achieve this fresh preppy vacation look by wearing a statement slogan tank top with faux leather shorts. To keep all your essentials in place, carry a classic black shoulder bag. Again, sneakers are the most travel-friendly yet stylish shoe option.
The Athleisure Look
This sportswear- meets- streetwear trend is all about striking the right balance. Sometimes it just takes only one element to take your clothing from gym to the streets. You can easily pull off an athleisure look by sporting a white printed tee and blue denim joggers. Not only this too-cool-to-care look will make you look trend savvy but also it will be travel-friendly. So be a comfort chic and opt for a pair of white casual sneakers and accessorize with big-framed sunglasses and a dainty choker.
The Beachwear Look
If you are jet-setting to an island to escape the cold and want to look chic while enjoying the sun, then this is the look for you. Get this easy-breezy yet stylish feminine beachwear look by donning a white coordinate skirt set. For that lady-like look, opt for a stylish pair of strappy ankle-wrap heels. You can also carry a studded sling bag to accessorize your look. Don't forget to wear a classic wide-brim straw hat to protect yourself from the harsh sun rays.
The Street Chic Look
If you are travelling to a cold-weather location, you ought to pack some extra layers. While layering is essential in winters, it's equally important to do it the right way. So if you decide to head for street shopping on your next vacay, you can opt for an effortless chic look like above. All you need to do is to pair a casual white solid blouse along with a black frayed ankle jeans. To give an edgy twist to your vacay outfit,  tuck your tee inside your denims. Throw on a faux leather jacket to keep yourself warm yet stylish.
The Sassy Look
This chic casual look is all about comfort and style. You can ditch your tight pair of skinny jeans for a cool pair of shorts. Not only it adds an extra oomph to your ensemble but also it is travel-friendly. You can nail your travel OOTD by teaming up your stylish shorts with a casual V neck white tee. You can also throw on a comfy cardigan in case you want to go for layering. To amp up your look, opt for a trendy pair of ankle boots. Add a stylish handbag and a bit of other accessories to rock your sassy vacay look.
The Sporty Look
Comfort plays the most significant role while you are on the go. With the hype that athleisure trend has created, it has become easier to take your gym wear to the streets. When you are travelling to a far-off place, you can opt for this comfy sporty look. All you need to do is to team up your basic grey V neck tee with a pair of black leggings. An oversized denim jacket is a must to keep you warm and cozy. It comes as no surprise that a sporty look is incomplete without a comfortable pair of trainers. Don't forget to add a stylish cap to take your sporty vacation look a notch up.
Packing for your next vacation is no longer a challenge as these versatile travel outfit ideas will give you fresh alternatives to slay travel style.