Do You Know E-Commerce Marketing Can Help You Grow? A Definitive Guide
The e-commerce market is as we all know, one of the leading sectors. Back in 2017, E-commerce alone made $2.3 trillion in sales and is expected to hit the mark of $4.5 Trillion by 2021.
See, this is the reason E-commerce market is on the boon. People are coming and purchasing stuff online. So, what's stopping you?
Let me be clear when the market is big and lucrative you have more reasons to walk carefully. The competition is too high, and there are many things at stake. One wrong move and this huge market can be the scariest nightmare for your business.
I don't mean to scare you but it is a fact, and you above all should face it. The future is indeed bright, all you need to do is apply the right tactics and get on with your business.
That is where E-commerce marketing strategies come into play. Here in this post, I will list some of the actionable E-commerce marketing strategies that will help you in building your forte.
So, without any further ado, let's get you started,
Upselling Is Great For your Business
It may sound a bit crazy but yes, upselling in E-commerce business is something which has the potential to uplift your business. There are many brands which are using this technique voraciously and gaining from it.
Let me give you an example. When Apple introduced iPads, they openly upsell them and try everything to convince people to purchase their iPads. According to Econsultancy, upselling is 20 times more effective than cross-selling online.
There are many instances where your prospects don't know about your product. Proactively educating them about your product will increase the chances where they will desire to own your product. That will motivate them to purchase.
When you are upselling your product, make sure that your upsell resembles the original product and always be sensitive to the price range of your target audience.
Instagram Marketing Is a Boon
I will tell you a figure. That figure will blow your brains out!!! The average order value in Instagram marketing is $65. Yes, that is something worth noting. In recent studies, we have found that Instagram marketing can give your E-commerce business a boost of around 25% if you compare it with any other type of social media marketing.
When you use the right hashtags, suitable filters, and the right time, you can achieve more than you think with Instagram marketing. Images are the great source to engage with your customers. When you are done with all the tactics such as campaigns and contests, you can adapt behind the scenes for your products. You can also opt for images to show how your customers are using your products. You can also use user-generated photographs. It is an awesome way to market your products. They not only increase reliability but also prove to be an effective resource for your brand recognition campaign. Here's an illustration of how you can use user-generated content for your Instagram marketing campaign.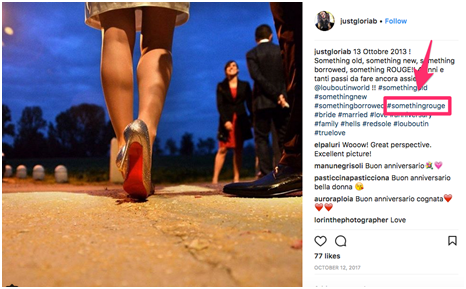 Make Sure To Reduce Abandoned Carts
When someone is at the counter, you want him to pay not to leave. There are many e-commerce platforms who fail to convert these potential buyers. That is why they do not succeed in the business. When you cannot convince an already convinced buyer then there is nothing for you in the business.
Yes, you heard it. Improve your abandoned cart rate or leave the market forever.  If you agree to a research by the Baymard Institute, 67.45 % of online shopping carts are abandoned before they can complete the transaction. This parameter is pivotal. These parameters are the mirror for your E-commerce business. It shows how your business is losing more than 60% of its potential sales.
Go ahead and craft an email that will address this 67.45 % of your potential customers. Entice them to complete the action. You can also give them lucrative discounts to lure them in. It is all up to you how you handle this situation. Or there are many apps which will help you in crafting enticing emails for your E-commerce business.
Check out this enticing abandoned cart email which was crafted by Huckberry.
What Are Your Strategies For e-commerce Business?
So, what do you think about these strategies? Which one does you like the most? What type of strategies do you follow in your business? Tell me all about it via the comments section. I love to get new insights from bright minds like you. Thanks for sticking around. Adios for now fellas!!!
Author Bio
Tarun Puri is a young, energetic and quality oriented Digital Marketing professional & Editor at Seasia InfoTech is known for his immense knowledge of marketing strategies. He often writes about mobile development, technology, entrepreneurship, startups and business-related topics.